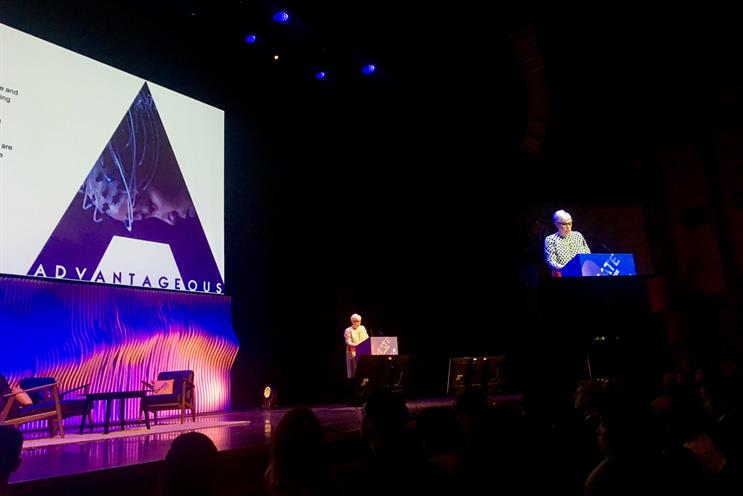 Speaking at IAB Engage 2017, Follows outlined the corner humanity has painted itself into using technological advancements.
"Generally we've chosen to use digital tech to be more efficient. We've put a lot of effort and money into analysing and automating, not only what we do, but ourselves," Follows said. "As a result, we've created digital filter bubbles for ourselves that are narrowing our views on life and it's making us more and more like machines."
Efficiency can be a cult, she continued, quoting Daniele Querea, co-creator of Happy Maps, and without an element of surprise or serendipity, humanity's growth is undermined.
The truth is, while we feel most comfortable when things are certain, we feel most alive when they are not, Follows said, drawing on another quote, this time by Tani Luna, surprisologist at Surprise Industries.
So, Follows proposes that instead of trying to make everything digital, we should adopt "whole system thinking".
"Where digital is the heart of the system, but the whole system, not a computational or information system, but a planetary system," she said.
An example of this, is the robot plant by Stanford University:
Just as this robot used biomimicry to achieve amazing things, we can also use AI to focus on mimicking bioligical testing, and processes like ageing and evolution digitally, she added.
"We're looking at a future where computers use DNA to store data and information and cells can store data too... my argument is that we've been thinking of digital as something that is external to the human being and external to the natural world. My provocation is that it is part of it and we should be thinking of it that way," Follows said.
The je ne sais quoi of beauty
The next speaker, Matevz Klanjsek, chief product officer for Celtra, continued the theme of melding technology with biology.
Celtra had worked with Tribeca Film Festival to put a creative AI on their X award jury with an idea to see if the machine would pick the same films as the human jury.
"This was a by-the-book machine learning exercise. We fed it lots of data, lots of incidences of the past festivals, and we got the machine to pick the winner," Klanjsek said. "Easy right?"
But the machine was pretty far wrong.
"It's top pick was only number 5 on the jury's list," he said. "Who was wrong?"
But after evaluating the AI, the data and the methodology, Klanjsek concluded that perhaps, everything was right with the machine, but when it comes to great storytelling it doesn't boil down to numbers.
"Marketing is about people. We're not a dataset. We're people. You need to look beyond numbers. You need to understand people and life," he said.
In another example of trying to use machines to quantify beauty, Klanjsek used the example of French actor, Alain Delon.
"Let's say you meet Alain Delon, look at him.Why is he so gorgeous? Can we measure it?" he asked.
"Well, perhaps we can deconstruct what makes a man beautiful... but, think about Serge Gainsbourg, Brigitte Bardot was crazy about him and he doesn't match the equations," Klanjsek said. "It comes down to what the French call, je nais se quoi."
So perhaps, to further AI, we need to get better at describing, Klansjek proposed. "We're good at figuring out the subject and the method, but what's missing is the description."
---
Join us at the next Campaign Breakfast Briefing this November, "Profiting from artificial intelligence: the business opportunity " to learn all about how companies can harness artificial intelligence to boost their bottom line results - click here to find out more.