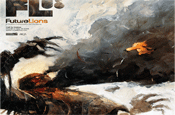 The annual competition, hosted by AKQA in collaboration with the Cannes Lions International Advertising Festival, challenges young creatives to develop an idea for a global brand in a way that would not have been possible five years ago.
Entrants can use any form of new or traditional media and must submit their entry by 19 May 2008. The winning campaigns will then be honoured with a 'Future Lion Cub' award at this year's Cannes Festival on 21 June in the Debussy Theatre.
The individual school with the most student submissions will also be recognised as the 'Future Lions School of the Year'.
The call for entries is backed by a poster campaign, produced by the illustrator Ashley Wood, which features the competition's mascot, the lion cub, taking on the robotic industry machine.
For further details on how to enter see: www.futurelions.com