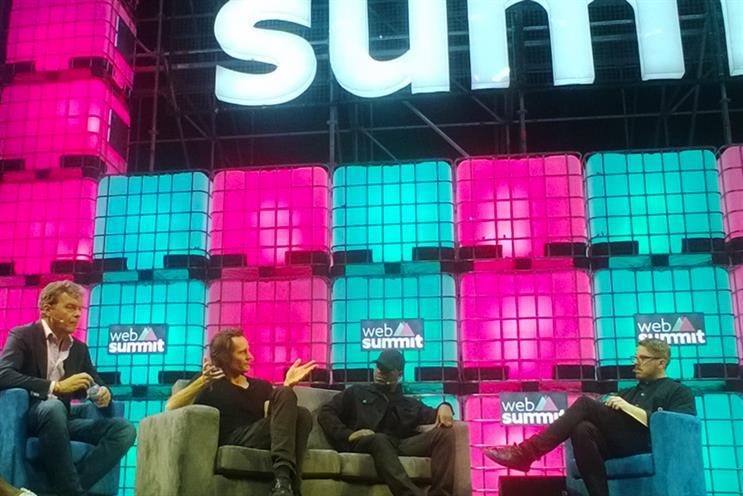 The summit was hosted for the first time in Lisbon – a city that's been compared to San Francisco for not only its healthy tech industry and burgeoning culture of innovation but also its rolling hills and iconic red bridge.
The four-day 2016 summit coordinated 21 standalone conferences, over 50,000 attendees from 166 countries, and a broad list of guest speakers from actor and HitRECord founder Joseph Gordon Levit, to Tinder founder Sean Rad, musical artist Ne-Yo, and the President of the United Nations, Mogens Lykketoft.
In the spirit of SXSW, the collision of diverse disciplines and nationalities at Web Summit 2016 gave way to formative ideas sure to set the digital agenda for 2017.
Here are the three most important things you need to know:
Mixed reality will overtake virtual reality
Examples of virtual reality freckled the expansive trade show floors, and curious Summit delegates waited in long queues at TAP airlines and Kraken VR Studios to experience it for themselves.
Isolated in virtual reality, headset-wearing attendees wandered aimlessly with outstretched arms. A panel of 4D technology experts discussing "Layered Reality" agreed that a lack of situation awareness is what will limit VR to the confines of gaming, in-home entertainment, and professional contexts like specialised medicine. Instead they positioned mixed reality, or MR, to become the mainstream choice with devices like Microsoft Hololens stacking multiple layers of holographic reality over the real world.
While current headsets were criticised for being clunky, Glyph's chief strategy officer Ed Tang implored developers to focus on new display models, such as retinal projection, which should eliminate traditional hardware all together. He predicted: "We won't be carrying around a smartphone in 10 years." Google ATAP's Ivan Poupyrev would agree. Despite his roots in VR technology, his presentation, "Interactive Everything", demonstrated Project Soli, whose gesture technology could render the mouse obsolete. Untethered exploration seems the way forward (look how far Pokemon Go players were willing to travel). But VR still draws a huge crowd.
Framestore chief executive William Sargent filled the arena's Centre Stage on day three of the event with his keynote presentation, "Film will Exist in Formats We Can't Yet Imagine". It remains to be seen how many people will experience his rendering of Fantastic Beasts and Where to Find Them in Google Daydream, and what place brands can hold in the landscape of reactive narratives – VR, MR or otherwise.
AI: the hybrid approach works best
Countless talks, panels and debates were dedicated to the raft of opportunities and challenges that surround artificial intelligence, or AI.
AI comprises a cluster of technologies, powering digital assistants like Siri and Alexa as well as the throngs of chatbots joining the conversation on messaging platforms. On Facebook Messenger alone, there are already 34,000 bots from brands like Burberry, which released its automated gift recommendation service for the holidays during Web Summit.
Facebook's David Marcus explained the fashion company opted for a "hybrid approach". Real-life Burberry representatives can step in when the AI hits a road block – a tactic Facebook itself has taken with its own digital assistant, M.
Human intervention not only ensures the conversation doesn't derail, but also teaches the machine learning algorithm how it should respond. Luke Dormehl, author of Thinking Machines, called these times the "boom of the expert system" in his panel discussion, "The Dividing Line between Human and Machine".
The benefits were hailed by many of the speakers, such as AI experts Ben Goertzel of Hanson Robotics and Rana el Kaliouby of facial recognition software company start-up Affectiva. They highlighted optimisation and personalisation in areas such as programmatic marketing, demand-prediction retail, and customer service as key opportunities.
Data privacy is a top concern
In a four-day line-up of talks that ran the gamut from the future of drone racing to the power of blockchain, data security topped the list as one of the most widely discussed issues at Web Summit.
American technical evangelist and author Robert Scoble debated with Indian human rights activist and Amnesty International Secretary General, Salil Shetty on whether technology was worth sacrificing privacy for.
While Scoble's positon was that technology is "going to give me superpowers and that's what matters", Shetty was far less comfortable with the amount of data captured by devices and on the web without people's informed consent. He called for "maximum privacy" for individuals, and "absolute transparency" for the public.
Shetty's opinions were echoed by unlikely voices of the technorati including a panel of angel investors such as Darian Shirazi (an early Facebook intern) and Joe Green (also Sean Parker's investment partner); as well as Facebook's own CTO, Alex Stamos.
All agreed that businesses can no longer operate under the current standards of data privacy. The user's safety and security must be designed into the very DNA, or code, of the product at its inception. One of many start-ups at the event talking about their own data privacy solutions, Swiss-based encrypted communication company Privus, enters the market on the right foot with its strapline mantra, "Privacy is an inherent human right. It is in our DNA."
Their business potential points to a growing number of consumers who are increasingly uncomfortable with personal data exchange in the digital age. Any brand holding consumer data, beware.
Elizabeth Cherian is the director of JWT London's innovation group