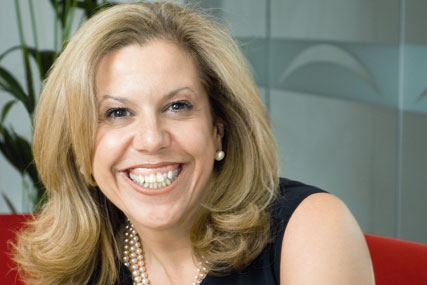 The publisher's earnings before interest, taxes and amortisation in the UK fell from £15.9m last year, to £12.9m, while revenue was marginally down from £106.5m to £105.9m.

However, US earnings came in at £200,000, compared with a loss of £3.3m last year, despite revenue falling from £47m to £46.2m. The halving of its net debt to £7.4m helped boost group pre-tax profits by 51% to £5.6m.

The publisher, which produces titles ranging from Metal Hammer and PlayStation Official to Simply Knitting, reported a 5% boost in revenue in the second half of the year.

Advertising revenue was up 4% to £27.9m for the year, while circulation revenue remained down 4% to £66.5m. Customer publishing revenue was up 37% to £6.7m.

Stevie Spring, Future's chief executive, said: "We're firmly back on track, we've had a fantastic second half. To have got to the point where we end the year with profits up 10% and we've paid down the debt by half, is great."
Spring added: "If you look at the UK numbers, customer publishing is up nearly 40%, advertising for the whole year is up 4% and for digital advertising, it's up 38% in the second half, so we've had a really strong year. I've got lots of reasons to be cheerful".

Last year's results showed a different story, with the US division making a £3.3m loss before interest, taxes and amortisation.

The division was hit hard by "unprecedented disruption" to the magazine distribution system after a dispute between wholesalers and retailers earlier in the financial year, in addition to falling advertising revenue.

By contrast, in 2010 the US division made a £0.2m contribution to profits. The publisher attributed the rise in part to an improved ratio of copies sold to copies distributed on the newsstand.

Spring said: "Considering our 'annus horribilis' in the US last year, turning the US back to profit is a big achievement. We've turned a corner there".

Spring said she had mixed feelings about the year ahead: "I have a schizophrenic attitude to 2011. For Future, I'm excited, but when I look at the fallout of the spending review and the general economic climate, I feel like I should get the knife out and slash my wrists. The economy in which we have to operate is anything but benign."

In August Future appointed Mark Wood as new chief executive of its UK business, following the departure of Robert Price in May who left to take up the role of UK managing director of 20th Century Fox.

The publisher also attributed growth to its magazine and app launches this year. Comic Heroes, a premium-priced quarterly title launched in January, has been "contribution positive" according to the publisher.

Future is also launching a new publication tomorrow called Tap! its second Apple-related title, which focuses on the Apple iPhone and iPad technologies available to consumers.