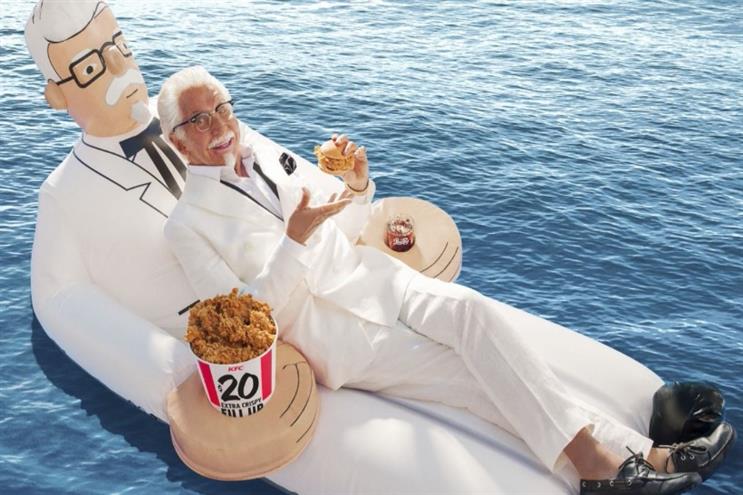 Today, KFC unveils a new colonel: Hollywood actor George Hamilton.
It's a step back from previous ambassador Reba McEntire, who took America by storm in January as the brand's first female colonel at a time when diversity and equality consume conversation.
Hamilton, who assumes the role for a second time (to push KFC's new Crispy Colonel chicken sandwich), is the antithesis of diversity -- an old, white guy.
But, when asked if we'll ever see a more diverse individual as the colonel, KFC U.S. Chief Marketing Officer Andrea Zahumensky said: "The future is wide open."
Zahumensky joined the Yum Brands chain in December after a two-decade career at Procter & Gamble and is the first woman to have ever taken on the U.S. CMO role at KFC.
"We are solely focused on finding colonels who represent the values of Colonel Sanders -- entrepreneurial spirit, a showman through and through -- and someone who can represent whatever it is we're supporting at the time," she said. "It's important that brands stay in tune to what's happening in culture and making sure we're relevant."
Zahumensky - who stressed that the famous chicken shortage of 2018 was in the U.K., not the U.S. - hopes to take KFC to the top of the fast-food industry with a three-pronged marketing strategy: trust, innovation and accessibility.
"I'm really focused on KFC to be a brand that customers trust and champion," she said. "And we're going to do that through our breakthrough advertising campaign. We're going to continue to evolve and connect with consumers in surprising and unexpected ways."
Brand safety is instrumental to this trust. "It's something we take seriously," said Zahumensky, who doesn't appear to be put off by recent YouTube headlines. "As we partner with key partners all over the industry, we are consistently very clear that our expectation is that we're on platforms which share our values as a brand...We have a great relationship with YouTube and Google."
Innovation comes in the form of a new sandwich. "It's different to any other chicken sandwich in the industry... it's hand-breaded in the back of our kitchens," she said.
KFC's well on its way to fulfilling the accessibility goal following a partnership with Grubhub and Yum Brands (it bought $200 million of Grubhub stock as part of the deal in February). The food delivery firm expanded into 34 more markets across 19 states earlier this year -- striking gold for food chains which previously did not have a restaurant-to-do service. It's part of Grubhub's ambitious plan to grow its network to reach more than 100 new markets by the end of 2018.
Key to KFC's advertising success is digital. The chain has been increasing its cyber spend over time and will continue to do so this year in line with consumer trends.
"I think we have to have a campaign that's relevant and distinct for consumers and that they want to associate themselves with KFC as a brand," Zahumensky added. "We need to have food and a menu that's cravable, and we have to make sure that we are accessible in the way that consumers today want to experience our food."