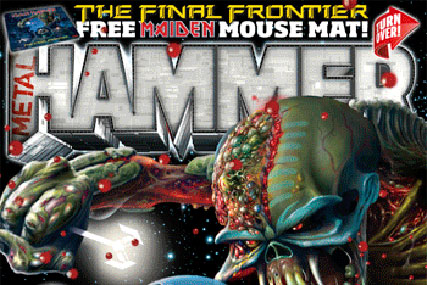 The £4.25 September issue will be on sale from 28 July and will also come with an Iron Maiden mouse mat.
The cover depicts Eddie, Iron Maiden's mascot, in blood-splattered 3D, and is the result of a three-way creative collaboration between Metal Hammer, HD3D originators Hive Associates and Iron Maiden.
The issue also features an eight-page behind-the-scenes report on Iron Maiden's sold-out US tour.
It is the latest in a series of "event covers" for Future's specialist music magazines. Metal Hammer commemorated the 20th anniversary of Slayer's 'Reign in Blood' 2006 album with the "blood pack" edition. In 2008 the magazine celebrated the launch of Metallica's 'Death Magnetic' album with a cover struck from a metal sheet.
Alexander Milas, editor of Metal Hammer, said: "If you've got a drop of metal in your veins, then you'll know that Iron Maiden are nothing short of messianic, so what better way to herald their return to the scene?
"We're delighted to have worked with Iron Maiden and Hive to create a truly epic cover befitting one of the greatest bands of all time for the greatest fans of all time."
Chris Ingham, group publisher of Classic Rock and Metal Hammer, said: "Our Iron Maiden cover continues the grand tradition set by Metal Hammer for spectacular event covers, celebrating the biggest events in heavy metal.
"Nothing comes close to topping the excitement of a new Maiden album in Hammer world. Metal Hammer is proud to have worked with the Iron Maiden camp on delivering their first 3D cover."
Advertisers in this issue include Kawasaki motorbikes, Jagermeister, EMI and video game publisher Square Enix.