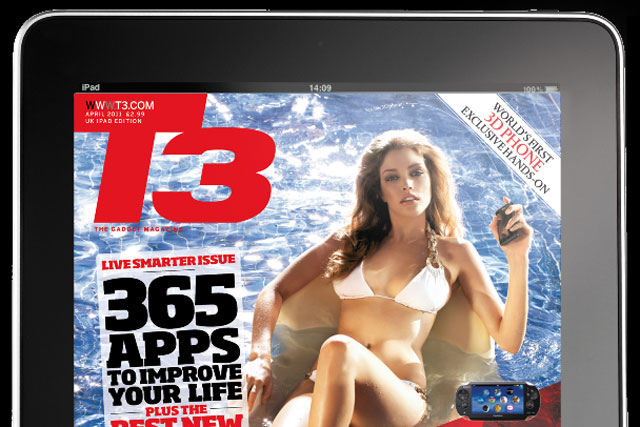 The average circulation figure covers seven issues published over the period from January to June 2012.

At the time of the last set of ABCs Future published independently-audited figures claiming 14,223 average monthly sales for the T3 edition, saying it would deliver ABC-audited figures this period.

Both sets of figures do not form part of the ABC data for magazine circulation, which includes a breakdown of digital edition figures.

Future is keen to stress its interactive edition is a different type of product to the magazine replica editions that are included in the ABC digital edition figures.
T3 has not published its print circulation in this ABC reporting period – last period it was an average 49,006 copies.
Excepting T3, Hearst's Cosmopolitan has supplanted Men's Health as the magazine title with the highest digital edition circulation.
Cosmopolitan sold 13,298 digital editions during the first six months of the year, ahead of 12,142 for Men's Health.

In the previous six-month period, Men's Health had the highest digital edition circulation, at 7,779.
According to Hearst, 65% of Cosmopolitan's digital editions (priced £2.99) were sold through iPad, 28% through iPhone and 7% through the iPod Touch. Readers can read their issues on multiple devices once they have created an app account.

Ella Dolphin, group publishing director at Cosmopolitan, said: "Tablets and smartphones are part of Cosmopolitan readers' lives and enables them to access our content whenever they want, not just when they are passing a newsagent.
"I envisage the digital editions will grow again in line with tablet uptake and this will likely be a mixture of existing print buyers and new recruits to the brand."
Table: ABC Analysis of Digital Editions (excluding T3)
Title
Publisher
Total Average Net Circulation/Distribution (Digital Edition)
Cosmopolitan
Hearst Magazines UK
13,298
Men's Health
Hearst-Rodale
12,142
GQ
Conde Nast Publications Ltd
9,652
How It Works
Imagine Publishing
9,185
The Economist - Continental Europe Edition
The Economist Newspaper Ltd
9,150
Total Film
Future Publishing Ltd
8,108
The Economist - Asia Pacific Edition
The Economist Newspaper Ltd
8,006
BBC Good Food
Immediate Media Company
7,346
Elle (U.K.)
Hearst Magazines UK
6,795
Harpers Bazaar
Hearst Magazines UK
6,242
Vanity Fair
Conde Nast Publications Ltd
6,242
The Economist - United Kingdom Edition
The Economist Newspaper Ltd
6,146
Wired
Conde Nast Publications Ltd
5,255
Esquire
Hearst Magazines UK
5,205
New Scientist - US/Canadian Sales
Reed Business Information Limited
4,914
Elle Decoration
Hearst Magazines UK
4,846
Men's Fitness
Dennis Publishing Limited
4,438
Stuff
Haymarket Consumer Media
4,326
Health & Fitness
Dennis Publishing Limited
3,389
Glamour
Conde Nast Publications Ltd
3,164