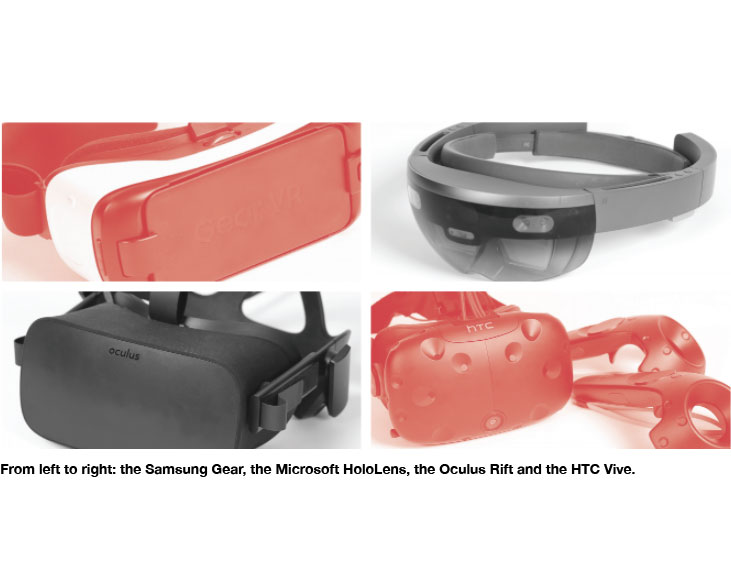 In a nondescript warehouse on Bridge Street in Brooklyn, New York, hundreds gathered for the fall 2015 Kaleidoscope VR Film Festival. Film, tech, and gaming enthusiasts alike buzzed around with excitement, waiting for a small number of virtual reality stations to officially "open." But the event's fatal flaw soon revealed itself: There were not enough experiences to stimulate everyone in a timely manner. A few attendees (myself included) made a break for it before things got any more hectic.
Fast forward to July 4, 2016, when a similar event was heating up on the other side of the world. Japan's Adult VR Festa, dubbed the "World's First VR Porn Festival," closed its doors 15 minutes after it began, due to overcrowding and fears that rioting would result from the excessive number of would-be attendees and level of enthusiasm for an old genre in a new, more immersive, put-you-right-between-the-sheets experience.
One of the trickiest things about virtual reality remains that so few people have experienced it. Access is still hard to come by, and content even more so. And as more companies start to ride the current wave, there's a race to own everything from the distribution to the hardware, and even the content creation. But without standards or guiding principles to navigate this new platform, many pioneers will fail before the technology takes off. At R/GA, technologists and creatives alike are experimenting with both AR and VR experiences to prepare for its inevitable arrival.
"It's not as simple as Google Glass just going away; too many very large companies are investing heavily in hardware and software platforms," says Marc Maleh, VP, Managing Director of Data Science and Visualization, R/GA. "You look at Samsung not only with their Gear headsets, but with their 360 camera. Nokia now has a crazy camera rig setup that also captures 3D audio. Dolby has a whole new Atmos out there purely for 3D audio for virtual reality. All of these companies are investing tons of money in these platforms."
Maleh, who also leads R/GA's Prototype Studio in New York, suggests brands too should be experimenting with VR. "Brands do need to show that they're thinking about their future business and that they want to be innovative," he says. "To me, that's the biggest thing. Brands now need to be able to flex their muscles a little bit more and be able to say, 'We're doing this, not necessarily because this is going to be a big thing today, but because we know that tomorrow it will be a big deal and we want to be at the forefront."
For Samsung, being at the forefront meant developing the ecosystem from creation to consumption. "Samsung has played a leadership role in unlocking the opportunity of VR, being one of the pioneers—if not the pioneer—to bring quality mobile VR to people at scale," says Marc Mathieu, CMO of Samsung Electronics America. "And also by thinking from the get-go of VR as an ecosystem where you have the experiential device, which is the consumption device [Samsung Gear VR headset]; the creation device [Samsung Gear 360 camera]; and also the content platform with Samsung VR, where you can find and upload VR content."
"We're playing a role across those three dimensions of the ecosystem of VR," he says, "to both accelerate the creation of content and the consumption of quality content so that VR moves from what could otherwise be a fad—which I really don't believe it is—into mass adoption."
Over the summer, R/GA's Prototype Studio and Content Studio held a demo night of the new tech the world is currently obsessing over. From experiences with the Microsoft HoloLens, to an exclusive look at an unreleased Beck music video on the Samsung Gear VR, attendees were interacting with the new technology, through singular and shared experiences.
"The most fun I've ever had in VR was that music video," says Alex Morrison, VP, Managing Director, Content Studio, R/GA. Morrison suggests the VR world will get past its urge to pack every possible feature into every VR experience and soon embrace simplicity. "VR can often feel like a lot of work," he says. "I think people forget sometimes that this is all supposed to be fun."
AJ Hassan, ECD, R/GA, agrees. "When complex experiences achieve simple expression, that's the definition of genius," she says. "The most powerful ideas and experiences are often beautifully simple."
It's why gamers are obvious earlier adopters, making the launch of a product like the Sony PlayStation VR headset good business sense. Gamers like a challenge, but the mechanics cannot be so complex that they get fed up with it and turn off.
As the world moves beyond gaming, content and utility will be key.
"The idea of saying VR is still going to come is probably behind us, and we are now in this phase of mass adoption," Mathieu says. "When you look at the number of companies in VR, including some of our competitors that are trying to catch up, and the VC money that's by hundreds of millions funding each of the individual content and platform companies in VR, these are all the ingredients for virtual reality to become really big."
Shattering the Looking Glass
"Google Cardboard was my intro to VR," says Hassan. "It came brilliantly included with my analog New York Times. The sensation was super thrilling and physically all consuming. I remember feeling like I was weightless, unable to stop myself from spinning my head like a tornado to take it all in. I actually fell off the couch from the fright of spinning right into the face of someone looking right at me."
The promise of virtual reality has always been there. Storytellers are constantly looking for new ways to evoke empathy in an audience while painting vivid pictures of worlds that oftentimes only exist in our imaginations.
"It's a really rich canvas for storytelling, particularly interactive and experiential storytelling," Morrison says. "You can be there. That's a really powerful thing."
According to market research firm Tractica, by 2020 sales will reach 200.1 million VR head-mounted displays across enterprise and consumer industries around the world. Driven by shrinking technology—in cost and size—VR is now a realistic possibility rather than a techie's fantastical dream of the future.
Since the Morton Heilig Sensorama debuted in 1962, computer, entertainment, and gaming enthusiasts have been chasing this elusive medium, with many films depicting a world where humans interact with the environment around them through a transparent digital screen. In 1965, the "father of computer graphics" and recipient of the 1988 A.M. Turing Award, Ivan Sutherland, tried to define this new display.
In an essay titled "The Ultimate Display," Sutherland described the world we live in and a future world enabled by computers. "We live in a physical world whose properties we have come to know well through long familiarity," Sutherland wrote. "A display connected to a digital computer gives us a chance to gain familiarity with concepts not realizable in the physical world. It is a looking glass into a mathematical wonderland."
Today, that looking glass is being pushed, bent, and maybe even burned onto our retinas by an onslaught of early VR devices.
According to a recent consumer survey by business intelligence firm Greenlight VR, 45% of consumers today are willing to spend between $1 and $199 for a VR headset compared to just 23% last October. The same study found that while 74.8% of consumers surveyed are interested in VR content from entertainment companies, they are also hungry for applications such as travel and adventure (73.5%), recorded entertainment (67.3%), and live non-sports events (67%). Marketers can capitalize on this interest—smartly—with branded VR experiences across a wide range of industries including those mentioned above as well as education and retail. Hassan believes AR and VR will offer brands "next-level opportunities to connect with people in spectacular and meaningful ways," but "brands have to go beyond self-interested product stories to win."
"Winning," she says, "requires a pull, not a push approach. The most successful work being done by brands today has a common trait: It authentically delivers content that expresses the brand purpose in ways that are, first and foremost, culturally and humanly relevant."
As with any previous technology that has disrupted media and our understanding of it, there's an urge to do something, anything to adapt. In order to navigate the fray, brands, technologists, and storytellers must experiment to find their own lane of play while ultimately staying true to their DNA. And for marketers, a new way of thinking is required, from the brief to the creative execution.
Resh Sidhu, Creative Director at the Framestore VR Studio, suggests marketers must move outside of their comfort zones.
"The first time I got my hands on the Oculus Rift DK1, I was blown away," Sidhu says. "It was a tremendous leap of seeing this actually isn't a technology, it's a whole new medium." Before joining Framestore, Sidhu and her team at AKQA were exploring a brief from Nissan for their IDx concept cars that would debut at the 2013 Tokyo Motor Show. "At the time there were only very few people producing VR experiences, and Nissan IDx was the first consumer-facing VR experience using the Oculus DK1," she says. "We were pulling together a team that wouldn't necessarily be at an agency, applying everything we knew from 15 years of advertising to figure out how we would transport consumers into a completely imaginary world."
Sidhu has been tinkering with technology and transporting herself to other worlds since she was a child and her father came home with a Commodore 64 computer. "I always kind of looked to technology and new mediums to help solve problems." That curiosity made the Nissan work a thrilling experience, giving her and her team a fearless attitude. "The fact that it was so new, and the rules hadn't been written, that's what excited me the most," she says.
Since then, Sidhu has been churning out experiences for a number of brands to create that excitement for consumers. The Lockheed Martin "Field Trip to Mars" experience, created by McCann New York and Framestore, dominated at the 2016 Cannes Lions International Festival of Creativity, bringing home 19 Lions, including one Innovation Lion and five Gold Lions. The experience gave the creative industry a look at the power of social VR, a goal many believe is necessary to determine the technology's staying power.
For Nick Law, Vice Chairman, Global Chief Creative Officer, R/GA, that goal is more attainable than it seems. "What actually happened with the development of the web as a medium," he says, "is that social became the most important platform. It's not hard to understand why.
People are always going to be interested in other people more than they are in objects and things, right? So it stands to reason that VR will go in that direction, that we will use it to be in the presence of other people, not to seal ourselves off… When it becomes broader, it'll become more social."
Designing Experiences, Not Commercials
In order for virtual reality to truly become social, and for more consumers to really embrace it, brands, marketers, and creators must start creating the content and experiences that early adopters are craving today. Whether dabbling in VR or considering a product demo using augmented reality, marketers should ask: What problem does AR or VR solve that could not be solved with another medium? What role does storytelling play in my business, and can VR or AR tell that story better than any other platform? In other words: Why does my business need this?
"I think the mistake we all make, when a new technology comes along, is we apply the rules of the old technology to the new technology," says Taras Wayner, EVP, ECD, R/GA US. "It happens with every iteration. When we went from radio to television, television commercials were chock full of words and very much like a radio commercial. When you have all the TV commercials, along comes the internet and everyone goes, 'Oh, we'll just put our TV spot on the internet.' Well, we all know how that worked."
It's an important distinction. Designing for television is different from designing for web, which is different from designing for VR. And when it comes to quality, the jury is still out on how high the quality of mobile VR experiences will need to be when higher-quality experiences will be dominated by the Oculuses and HTC Vives of the world. Oh, and by the way, none of this solves the fatal flaw of VR as a use case: The experience revolves around taking you out of reality and disconnecting you from the rest of the world.
"There are fundamental user problems with virtual reality," says Jess Greenwood, VP, Content and Partnerships, R/GA. "It fails on almost every rule we've established about user experience in that you have to put your head in a box, not speak to anybody else, and potentially throw up after seven or eight minutes."
Yet, she adds, "VR truly is an amazing teacher of empathy. It's an amazing way to help people experience things they wouldn't necessarily experience, and of course it will be good for gaming. But at the moment we're in love with the technology so much that we're overlooking the design flaws. At a certain point, the design will win."
Whether you sit in this camp or not, consumers are starting to experience and crave more and more snippets of this world, and content creators are increasingly feeding that craving.
"In the end, it's going to be about the quality of the content," says Law. "This is a creative language that's being developed. If in the end all the technical specifications for presence are met, yet the story's boring, it doesn't matter."
Experiencing that presence firsthand is a necessary step toward realizing the platform's potential—for consumers and marketers—that will ultimately help identify what type of content is right for a story, a demo, or an experience.
Wayner oversees multidisciplinary creative teams through product development, services, and brand communications for several R/GA clients. To deepen his understanding of this new medium and the Samsung VR ecosystem, he's created his own content with Samsung VR products, including the Gear 360 camera. Helder Santo, VP, Group Managing Director, R/GA, and Samsung US business lead, is partly responsible for enabling Wayner's experimentation. "We gave a bunch of people 360 cameras so they could go around and play with it," Santo explains. "[Taras] said, 'Hey watch this.' I put on the goggles and the first thing I see is him and his hand and he looks like a giant. He puts the camera down in the center of his living room floor, and I'm looking around, and all of a sudden his two dogs run up to the camera, his daughter runs up to the camera, she kind of squats down and is looking at it. Then his wife comes around, and I immediately thought, Oh my god, I'm in your living room right now. And it's different because it wasn't this highly produced thing—it was just personalized VR content."
Santo found his transportation into Wayner's living room astonishingly intimate. "When you look at all the things people gravitate toward, they are new ways for us to connect," Santo says. "VR is just another outlet for sharing things in a very profound way. It's probably not going to be as ubiquitous as a tweet, but whenever someone is willing to invest a little bit of extra effort and time, putting on goggles to experience something, it's going to be much more profound than the small piece of content that you share."
In experimenting with 360 video and photography, Wayner has gravitated toward photography. "When you tell a story from your point of view, and when you use VR in social, you capture something with the expectation that you are putting someone in an experience that you've experienced," he says. "A single photograph seems much more interesting to share than a video, for example, because you have to think about the position of the viewer's head."
Wayner's interest in 360 capture echoes the call for social VR content being heard throughout the industry. But on the utility side, AR—or its complicated big brother, mixed reality—may soon prove its worth.
"There are all sorts of things that you can do with the potential of mixed reality, in which digital objects can interact with the real world," R/GA's Greenwood says. "Mixed reality is designed to solve an actual human problem, which is the interface of you staring down at your phone, or you being tied to a laptop screen. It's the information-on-demand power of the digital world, combined with the physical freedom that comes with removing handheld devices. We don't yet know what it'll be able to do, but it's fun to wonder what we might do if we weren't holding cellphones all the time."
Before Pokémon Go, hardly anyone was thinking about augmented reality in any real way, at least not since the societal rejection of Google Glass back in 2013. In its record-breaking first week, the game was downloaded more times than any other app in Apple's App Store history. It's created a mainstream way to put an altered (or augmented) reality in front of a mass audience, with a few simple keystrokes, on a device the world has already adopted at scale: the smartphone.
"Pokémon Go has taken mass the idea that phones are a portal to another place where you can have mixed reality experiences," says R/GA's Morrison. "You're holding up a window into a world where Pokémon characters run around like us. And the game is fun. It's a great example of what a successful windowed VR experience could look like."
It's also a clear example of what happens when marketers spot an untapped opportunity to explore a brand's story on a new platform, in this instance, through gamification. "If you think about what Pokémon Go is, where it's gamifying the physical space using digital through your phone, that's not that different from what you might do on a phone where there are location-based promotions," says Nick Coronges, EVP, CTO, R/GA. "It's just that Pokémon did it in a less terrible way."
A huge proponent of our phones as a window to these other worlds, Coronges believes the future won't look very different than it does today—we won't all be walking around with headsets on. Instead, we'll be using the device we've already come to know and love.
"The phone, with its rectangular shape, touchscreen, amazing camera, mic, and speaker, has achieved a human-computer interaction optimization that's going to be hard to beat," he says. "The things we've seen that have become mass scale, like Pokémon Go, are great examples of where things are headed realistically in terms of augmented reality. If it doesn't run on the phone, you're only talking to a small segment."
Windowed VR and AR experiences like Pokémon Go, or even the Rihanna ANTIdiaRy experience R/GA created with Samsung, where users could explore a physical space through a phone's telemetry and navigation, may seem less enticing than the complex, large-format experiences you'd get with one of the more expensive headset devices on the market today. But that's the point: Windowed experiences are "where you get scale, distribution, and of course reach," Coronges says. But windowed VR doesn't mean low quality; it's simply lower quality to accommodate the devices we already have. As Morrison suggests, "The same experience or story that you create with full immersion in mind, using the parallel of web design, needs to have graceful degradation." In other words, the rulebook for designing presence shouldn't change from device to device. You will still need to consider what's happening beyond the peripheral—if it's relevant and necessary to tell your story.
While the Vive, the Oculus, and other high-end headsets will most likely remain niche, the universal truth for this group of creatives is simple: If it's not mobile, accessible, and eventually social, virtual reality will continue to be a techie's toy, embraced by gamers who are content with isolating themselves from the real world.
And social is where we're headed. Facebook's purchase of Oculus, the VR film festivals that continue to be scheduled, Wayner's personal VR video that puts viewers in his living room, the PlayStation VR launch, the acquisition of VR experiential creative agency Fake Love by the New York Times, and even creative conferences such as The Future of Storytelling, taking place this month in New York City—all point to a not-so-distant future when virtual realities are shared experiences, not antisocial ones. "We're all social beings," Framestore's Sidhu says. "I think VR in the household will be an everyday device that we use for health, news, education, entertainment, and gaming, and it will be a very social device. I will be watching the game in my house here in New York while my family is back home in London, and we will be in a virtual environment enjoying the game together."
Through empathy and shared virtual experiences, "VR brings people together," Sidhu says. "In 15 years' time, we're going to say it revolutionized the way we interact with each other as humans."
All the more reason it's an interesting place for brands to play.
Says Samsung's Mathieu: "We could have created more payphones so people can go to a booth and make a call, but instead we created mobile phones. We could have created big TV screens that you install in the central plaza of a city so everybody can go and watch entertainment there, but instead we created a TV you can squeeze into your house and now into your pocket. It's the same with VR: We want to create mobile VR so that we equip people, and make it more and more a part of their everyday lives… I've often said a couple of things we have not invented yet are time traveling and teleportation. This is as close as it gets."
A Window into Branded Worlds
Alex Wills, Executive Director, Content Studio, R/GA London discusses one client's foray into a virtual world.
We needed to explore the benefits of creating a fully realized VR experience that allowed positional tracking in a 3D environment with Stevanato, the pharmaceutical packaging company. This was no simple task: The tech is still so new that it requires demonstration for people to fully comprehend true VR.
We were creating new UX and Design solutions for virtual environments while devising new ways to include client feedback, all while sticking to a fairly challenging timeline. We had to look at the information design and brand language as if they were integral parts of a museum installation. We looked at how someone is guided through a real exhibit and how information is revealed naturally to the viewer in a fully 3D environment.
VR allowed our client to develop an experience that was never before possible as the machine operates in a clean room and weighs seven tons! Customers were able to walk around and through the machine, experiencing its unique features.