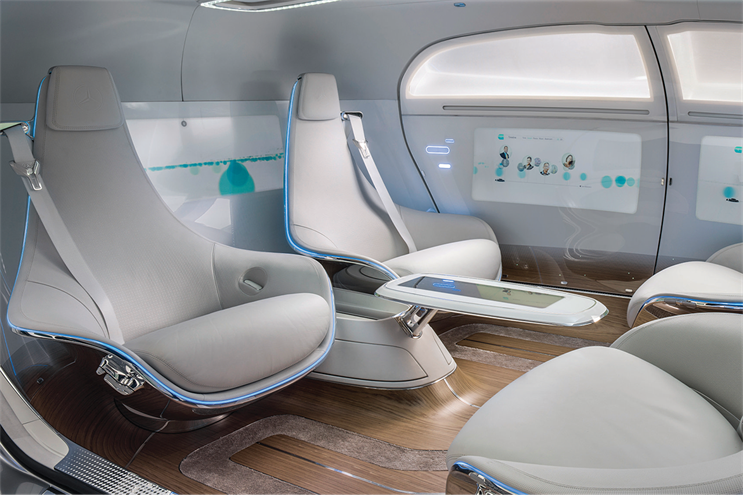 As the automotive industry races toward a self-driving future, the role of luxury may be getting a rebrand. At Mercedes-Benz, the inventor of the automobile, signals of autonomy are already appearing in some of its latest models, but increased connectivity and personalisation remain key…
Helder Santo: Tell us a little bit about Mercedes-Benz's top priorities for the next five years.
Mark Aikman: We're in the middle of one of our largest product offensives ever. From entry-level cars to cars with the latest and greatest, like the E-Class, which, in my opinion, is one of the industry benchmarks for what is technologically possible on the road today, to the luxury that everyone knows and expects.
On top of all that, we're really moving into a number of connected services. So, for example, there's our Mercedes Me app, which is available for all customers on all vehicles with connectivity. We're at the beginning of this new era in which the connected vehicle really lets us message and connect with drivers in a way that is more intelligent.
It gives people the ability to connect with their cars, to access their dealer through an assist functionality, to be inspired by the amazing content and partnerships that we have, as well as a number of other features. If you were to buy a Mercedes-Benz today, [the app] comes standard with five years of connected car services, so you can lock, unlock, and remote-start your vehicle—all from your smartphone.
As we see the automotive industry grow and change, we face new challenges as marketers. How do we potentially offer solutions that may be outside just selling a physical product? How do we also market new products, such as our recently announced electric vehicle in-car architecture, Concept EQ? That's going to be a huge part of the future. We're definitely teetering on a bit of a game changer inside the automotive industry as far as how that product is going to differentiate us over the next few years.
HS: Personalisation is a big opportunity moving forward and it's often synonymous with luxury. What is Mercedes-Benz doing to create the next level of luxury?
MA: As a marketer with a broad range of products, personalisation is actually a little more difficult. The brand doesn't just go out with one message all of the time. There's a lot of diversity across our marketing portfolio to get the right message to the right consumer at the right time. That's the block and tackle, like programmatic marketing, dynamic creative optimisation, as well as CRM. All go into that incredibly important segment of one and, increasingly, with more of their personal information. So marketers certainly have a challenge in that respect.
As far as being a luxury brand, the benefit for us is that the product is incredible.
For every luxury brand, it always starts with the product: You need to sell something amazing. As we think about our consumers, we want to make sure that we're delivering an amazing experience to them, both with and beyond the product. So the dealership experience should delight. Then, through digital touch points, we want to make sure everything they need from the brand is easily accessible.
That's where Mercedes Me becomes an incredibly important personal touch.
Lastly, I think luxury is a little bit about saving time. For many luxury consumers, not just ours, the one thing that they never have enough of is personal time. So we really think about the things that we can do to make owning, being a part of, or purchasing this brand easier than ever before.
HS: Shifting gears a little bit, there's been a lot of chatter in the industry about the decline of ownership. What are the challenges there and do you have any additional insight on Mercedes-Benz's approach to addressing them?
MA: Sure. I think you certainly hear things like, Are millennials different? Or, Is the automotive industry going to go away entirely because of connected services?
But Mercedes-Benz is the inventor of the automobile. We're celebrating 130 years of owning the automotive category this year. With that comes this relentless quest for innovation. Our tagline, "The best or nothing," is not just about developing cars. We're at a tipping point where you're seeing innovation move into categories like services, connectivity, or potential new ownership models, but at the root, we need someone to actually build that car, that autonomous vehicle that people are going to use.
The automotive industry has really come back, and once again you are seeing luxury sales reach incredibly high numbers.
For us, 2016 was one of our best sales years ever. We're giving consumers more product choices than they've ever had before. Consumers also have different mobility solutions in front of them that they didn't have previously. This is giving customers flexibility in ownership, and it's an exciting space.
At Daimler [Mercedes-Benz's parent], we are making developments that respond to the question, What are our other business models and approaches to the consumer?
Car2go is a great example of that. In cities across the country and around the world, we have Car2go markets where Daimler operates one of the largest fleets of company-owned vehicles. The service allows customers to rent a car not just for a week or a day, but even for a matter of minutes. That gives customers flexibility for the times when using a personal vehicle may not be the best option. But there is still a lot of runway for personal vehicles and the customers who are going to want them.
HS: It's almost like there's a mobility solution, like Car2go's, just to get from point A to point B, but when you want to buy a car, you want one that's worth owning. So Daimler and Mercedes-Benz seem to cover the bases with transportation in general. How does autonomy fit in?
MA: Autonomous driving is an exciting marketing challenge, but the technology is not one that's really upon us yet. There's still a bit of space between the functionality of today's cars and cars that completely drive themselves. Closing that gap will involve people who are smarter than I am, government, regulations, and many other things.
HS: So how do you see Mercedes-Benz playing a role?
MA: Mercedes-Benz has already been thinking about autonomous driving for over 30 years now. And it's definitely a commitment that has primarily sprung from the question, How do we make cars safer? Daimler has had a commitment to accident-free driving for some time.
We're increasingly seeing a progression taking those steps forward inside the cars that are on the road today. As we advance toward the future, and the idea that driverless cars will come within our lifetime, Daimler is committed to that vision. I've had an exciting year learning about some of those topics and seeing how across the world there's a different appetite for autonomous driving.
For example, in markets like China, the automobile and personal ownership isn't as ingrained as it is here in the US. It's very possible we may see markets in China that are faster to adopt, or willing to build infrastructure to help enable autonomous vehicles. As far as the marketing challenge for us today, we're going to continue to tell the story of the incredible driver assistance innovations that are taking us closer to autonomous driving.
HS: As part of that vision, can you tell us more about the Pre-Safe tech that already exists in Mercedes-Benz cars today that are precursors to autonomous driving?
MA: Pre-Safe is just part of what we would generally call our Driving Assistance package, under another umbrella called Intelligent Drive, which is our commitment to safety features that will either passively or actively protect a driver. Many of these features in the package also make driving more convenient. Our current generation
E-Class, for example, launched an offering called Pre-Safe Sound. If the car detects that a crash is very likely, it emits a kind of white noise inside the cabin, which helps cushion your inner ears. Essentially, it helps protect your ears from the sound you could experience during a crash which often causes temporary hearing loss. We even debuted two stereoscopic cameras that look at the road and around the entire car on the previous generation E-Class.
It's an incredible network of sensors with features like pedestrian recognition that helps to improve the driver's input and to monitor the road ahead. It even identifies cyclists. The car is able to detect the direction and velocity of objects.
Not only can the vehicle see an object in front of it and help the vehicle slow down, alert the driver, or apply either a partial amount of braking or up to complete braking in certain situations, but now it can also detect objects that may be in front of the car. For example, with Pre-Safe in cross- traffic, you have the ability to see an object moving into your lane of travel even though it may not be directly in front of you yet.
The Driving Assistance package with Evasive Steering Assist is another one of those features that a lot of people are wowed by, particularly as they feel the steering wheel move inside their hands. At first, it's one of those things where you may say, do I really need this? And then the longer you drive with a car that has it, the more comfortable you feel, and actually the more relaxed you feel, as a driver.
HS: Which aspects of marketing you are most excited about?
MA: We're still on the tails of a social media explosion that has allowed us in an agency- client relationship to develop amazing content more nimbly and more often than ever before. As a brand, this represents a really exciting opportunity for us. We have all of these incredible stories to tell and now we actually have the platforms to tell them and the opportunities to put them in front of people who are genuinely interested. That explosion of content is really exciting.
Paired with it, we're now approaching something closer to a segment of one than we've ever had before. Increasingly, we have an ecosystem in front of us to really deliver those personal communications in a way we've never done before. We're really at this revolution where customer data is starting to also come from the car.
We now have the ability to really know our customers and have them give us their preferences. Then, as a brand, hopefully we can save customers time and deliver more meaningful and personal messages to them, based on what they already own.
HS: It's almost like you're creating marketing as a service.
MA: Yeah. If you're a customer who owns multiple vehicles, we want to make it easier for you to say, I want to digitally schedule this service, maybe even have someone come to my house, pick up the car, take it to the dealership, and drop it off when it's done. And not just having us message every customer, but message those who actually need service on their car. Or customers who are ready for their next car. That personal aspect that combines luxury, marketing, and something that wasn't possible five years ago is going to be really exciting.