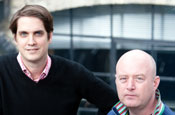 Jones joins as the planning and strategy director while Mulholland joins as the agency's executive creative director.

Galileo, which launched in September last year on a payment by results model, has hired the pair to strengthen its senior management team following a spate of recent growth.

They will both work alongside the Galileo managing director, Ed Lecky-Thompson.

He said: "Galileo was launched in 2008 as an antidote to the typical digital agencies that focused on delivering self-indulgent campaigns without really having to account for lead generation, sales or long term consumer engagement.

"The economic tide has now turned against this model and in these challenging times we are seeing more and more clients demand that every pound they spend on digital demonstrates a tangible benefit to their bottom line."