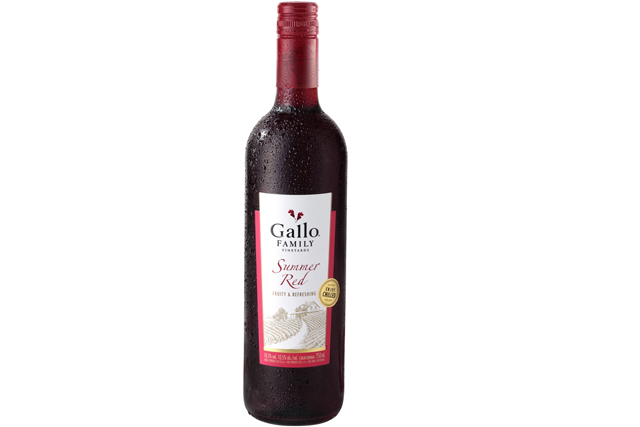 Gallo claims that Summer Red is the first red variety from a major wine brand intended to be served cold and not at room temperature.
Gallo describes the wine as 'light, fruity and fresh-tasting'. It has an ABV of 10.5% and the company recommends it is served with lighter foods.
Senior marketing director Amy Englehardt said research showed that consumers had 'enthusiasm' for the idea of a cold red wine. 'It challenged people's perceptions and they found it genuinely intriguing,' she added.
The launch will be supported by a print, online and radio campaign created by The Assembly, as well as sampling.
Ads will use the strapline 'How refreshing!' to position the wine as an ideal summer tipple.
From May, Summer Red will be sold in independent retailers and convenience stores, such as Costcutter and Bargain Booze, as well as the major supermarkets.
Gallo has dropped its 'Rose on the rocks' promotion in bars and pubs to focus on the red-wine launch. The rose campaign, which began in 2007, encouraged consumers to drink rose with ice in an attempt to steer them away from cider.
However, the wine-maker is launching a Merlot Rose in the summer. The product, which is the brand's third rose, is darker and more full-bodied than its existing variants.
Bill Robert, general manager EMEA, said the Merlot would 'enhance (Gallo's) position as Britain's favourite rose brand'.
Summer wine-drinking has been fuelled in recent years by a boom in the rose market. Over the past decade, sales of rose wine have almost doubled in the UK. Rose now accounts for nearly 12% of the total wine market, with a value of more than £617m, according to Nielsen.
IN MY VIEW EXPERT COMMENT
Belinda Stone, Marketing manager, Patriarche Wines
"Chilling red wine is nothing new. The French have been doing it for years and people in the know are very comfortable chilling the right sort of red. Whether the general public is ready to drink chilled red wines remains to be seen, but tell people it's a good thing to try and I'm optimistic they'll embrace it. The right brand with a great wine and communication campaign could very well make drinking red wine chilled the norm."