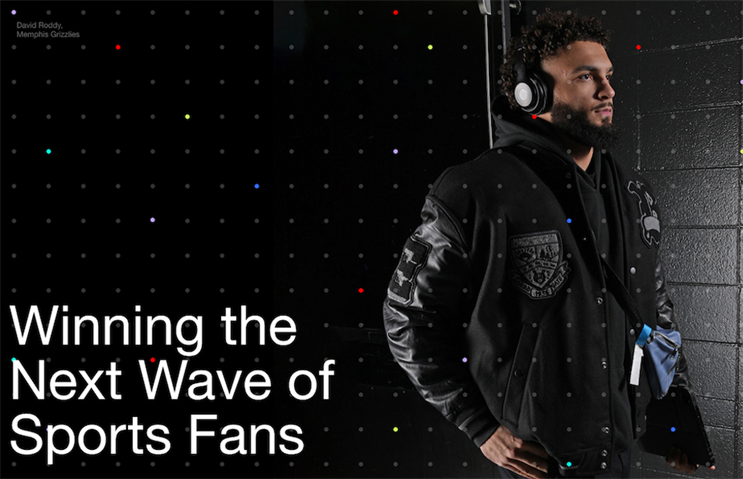 In the evolving landscape of sports fandom, the contrast between die-hard enthusiasts and casual observers is giving way to a new player: the 'on-demand fan'. This new breed of sports aficionados curates their sports experiences on their terms and around their interests. Their loyalty isn't just to the players and the game, but the wider culture that has bloomed around it. On-demand fans cut across the lines of age, race and gender. They are a technologically literate, culturally attuned group whose expectations are a product of the on-demand culture we live in. 
Research spanning 6,785 sports fans in the US reveals that 35% of sports viewing moments focus on the game and supporting a team, while the remaining 65% encompasses entertainment, cultural relevance and the fan-athlete connection. On-demand fandom is not a niche but an emerging majority, marked by active spectators who seamlessly blend game highlights with memes, exploring sports' intersections with music, fashion and social change.
For the sports teams, leagues and brands, this new category of fan represents an opportunity. On-demand fans are setting new standards in engagement, entering fandom via diverse verticals such as music, fashion, art and social issues. Connecting with this wave involves valuing their support alongside traditional fans and exploring new angles into the world of sports.
To design effective strategies for engaging on-demand fans, consider these key trends uncovered by R/GA's research:
The culture of sport is as important as the game itself
On-demand fans immerse themselves in the broader cultural conversation around sports. It's not just about the on-field action; it's about the entire cultural dialogue. Athletes are viewed not just as sports heroes but as style, cultural and sometimes political influencers. The culture surrounding a fixture has become as captivating as the game itself, driving engagement and interest. 
In fact, for many, this can be the door into the game itself. Indeed, for 62% of TikTok users who claim to watch major sports events, culture is the reason to watch sports, not secondary to it. 
And the involvement of popular culture isn't a distraction from sports – it can elevate it. For example, Taylor Swift's relationship with NFL star Travis Kelce saw a 400% spike in his replica kit sales. And the Kansas City Chiefs game that Swift attended was the most watched programme among women aged 18-49 on that day.
Sports audiences are creators as well as spectators
On-demand fans aren't content with being passive spectators. They're active creators, using platforms such as TikTok and Instagram Stories to generate, share and remix sports content. They're adding layers to sports narratives, making themselves part of the story. The leagues and teams savvy enough to understand this are fostering two-way interactions and harnessing the power of community-driven narratives – not just their brand narrative. In the era of on-demand fans, the sole focus of sport doesn't just reside on the field – it thrives in the user-generated content swirling around it.
Technology deepens engagement 
From teletext to online betting, technology has always made sports more interactive. The new wave of AR, VR and generative AI will make it more immersive. As a result, forward-thinking leagues and brands are crafting tailor-made experiences to captivate both rookies and seasoned fans. 
Continued advancements in gaming technology is also a key driver, with 57% of Millennial and Gen Z sports fans also enjoying eSports, and 31% of the sports fans surveyed also playing EA sports games such as FIFA and Madden. When Verizon built a virtual version of the Tampa Bay Buccaneers' stadium in Fortnite for the 2021 Super Bowl, it attracted an incredible 40m visits. And rapid innovation around hardware and devices is also providing new opportunities for the on-demand fan to experience sport, with immersive participation now possible through technology such as Apple's Vision Pro glasses, designed for spatial viewing. 
The lines that once separated sports fans are fading fast. On-demand fans, with their emphasis on digital, cultural and tech-driven intersections, have taken centre stage. To remain relevant, brands and leagues must fully embrace this new wave of sports enthusiasts. The future of fan engagement lies in cultural crossovers, shared narratives, and immersive experiences that resonate with this dynamic and diverse audience. It's a new game, and it's essential to play it right.
If you'd like to further explore how on-demand fans enter sports, how they follow sports differently and how brands can engage with them through the intersection of sports, culture and technology, then download R/GA's latest piece of thought leadership, Winning the Next Wave of Sport Fans, here.
Nick Pringle, EMEA CCO, R/GA