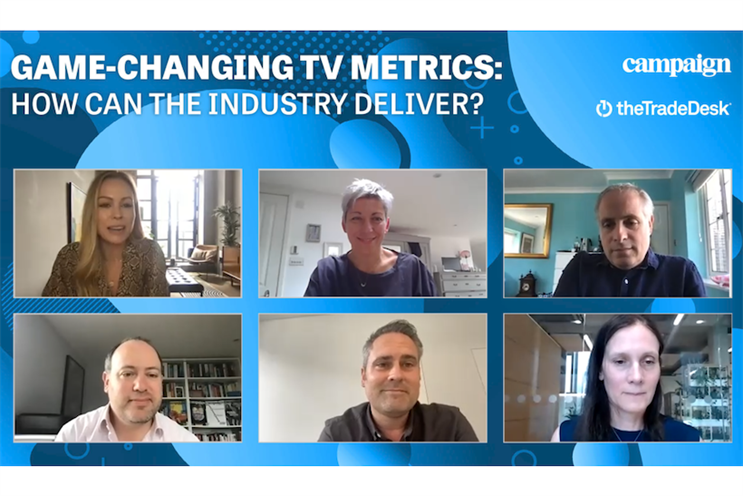 The television landscape is increasingly complex and exciting. The shift in viewing habits continues apace, accelerated by months of lockdown and the advance of technology.
According to Jessica McGrogan, senior director for brand at The Trade Desk, 20% of UK residents are watching up to 16 hours of streamed content per week. Speaking at a recent Campaign Building Brands Q&A panel, McGrogan said, for advertisers and viewers, telly-land is a fragmented space making it "near impossible" for marketers to get a full understanding of their brand's reach. 
In contrast, Lucy Bristowe, director of insight and research at Sky, praised the "resilience of the TV set", saying that 16- to 34-year-olds are still watching 90 minutes of linear TV per day. That's roughly the length of a football match, of course, and Bristowe acknowledged the continued draw of live sport as a provider of "record viewing levels" and as evidence of the "human need for those viewing occasions when everyone comes together".
For Bobi Carley, head of media and video at IBSA, these shifting sands "represent an exciting time for [advertisers] to capitalise on these eyeballs in new, different places".
The ideal metric? There isn't just one
"There is no silver bullet," said Joseph Cox, media lead at O2. There are many ways to measure success, depending on your aims and that's the vital ingredient. "You have to have a clear aim. Brand awareness? Sales growth? Market share growth? Reach frequency? It's not about the ideal metric but the ideal combination of metrics and analytical techniques. Then you need a team with the right skills and expertise to be able to synthesise actionable insight from all the signals at their disposal."
Sam Taylor, head of commercial marketing at Direct Line Group and an ISBA executive committee member, agrees. He doesn't want a "single currency" but he does want transparency and equivalence that "enables us to make an informed choice about the best options".
McGrogan wants to see a measurement marketplace that combines "advanced identity solutions" with rich data that is actionable in real time and across platforms. "Unified ID (UID) 2.0 will be helpful here as we move away from the cookie," she added. 
"Data should be at the cornerstone of every marketer's plans. It's incumbent on tech partners, agencies and brands alike to get upskilled on how to mine this data and hone it in the right way, but I think AI can really do a lot of this heavy lifting. Data and technology are changing the whole game in terms of the shift from instinct to information and insights."
Cross-platform measurement: pros and cons
Sky's recent launch of CFlight, in conjunction with ITV, Channel 4 and Viacom, has, according to Bristowe, brought the industry "really close to that cross-platform reach measurement we know advertisers have been waiting a long time for". 
But she believes that the only route to a single view of performance across linear and non-linear is through "a single-source panel that can measure everything beautifully for all demographics, including addressable". She continued: "We have a 500k household panel, which works really hard for us knitting all those things together. But on occasion it's not big enough for some addressable campaigns and I don't think as an industry we are realistically ever going to get to a panel that is, for example, a million households. So there's a trade-off which is probably a combination of data and panel to derive the demographics that our advertisers need."
Cox added: "Anything that standardises measurement and makes things more transparent is good." But he remains frustrated that there is still a lack of understanding of "what TV can and can't do".
Carley praised CFlight but said it was only the first step. "Measurement has got to catch up with consumers," she said. "And that's behind the launch of Origin, and why it's come from brands themselves. They've been pushing the agenda and they've taken the initiative to answer the question. There's no doubt that TV is the best medium for advertisers. TV will win, because the data will show it."
While Taylor doesn't believe that either CFlight or Origin are the game-changers we crave, their existence is worth celebrating and opens up opportunities for new-to-TV brands. "We just need to move quicker," he said.
Improve the viewability experience
McGrogan stressed the importance of frequency management. With 85% of households watching broadcast content on multiple platforms, the risk of repeated ads is a problem. "The only way for marketers to make sure that they're reaching high-value audiences effectively is to have a view on holistic frequency management," she said.
The future for brands in ad-free spaces
The world of multi-subscription TV is unsustainable, said Taylor. There will soon be a tipping point for consumers, due to cost, convenience or both. So, the expectation is that previously ad-free spaces will open up. But that doesn't mean a gold rush.
Taylor said: "TV is the most trusted place for advertisers but we have to behave responsibly – and use data responsibly – otherwise viewers will watch less telly, which then reduces investment in programming content." 
Cox agreed, saying: "TV is going through something of a golden age but I would urge a note of caution. It's really important to preserve that trust and to recognise that there's different ad acceptance in different places. Whatever we do we must respect the consumer."
Carley is unsure of the future but thinks the new TV business models "will only be an upside for advertisers". Bristowe also believes that viewers are adaptable, saying: "We know from the data that streamers watch other content as well and they're very unlikely not to watch any terrestrial content, for example."
Progress has been made and there is momentum in the great metrics quest but there's still a long way to go.
 Hot takes: the panel's key message about TV metrics
 Lucy Bristowe (Sky): Make the most of first-party data.
Bobi Carley (ISBA): "Now is the time to change."
Joseph Cox (O2): "Link the metrics to the business outcomes and make sure that your analysis can drive change."
Jessica McGrogan (The Trade Desk): "The time is now for innovation."
Sam Taylor (Direct Line Group): "Test, learn and adapt – embrace the opportunity, even if you can't fully measure it yet."
Watch the panel in full here and find out more about the future of TV measurement.