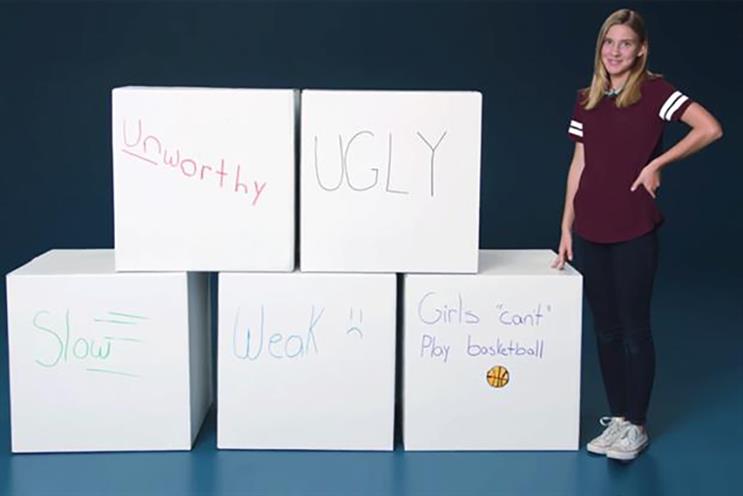 Always has unveiled the second installment of its "Like a Girl" campaign, signing up "Game of Thrones" star Maisie Williams as an ambassador and launching a "confidence curriculum" for schools.
The new film runs in the same vein as the original ad. They feature a range of girls and young women discussing certain things they feel they "can't" do, according to social norms. One example used in the spot is "rescue people."
But P&G, which owns the brand, is taking the campaign beyond commercials. The company has collaborated with child psychologists and teachers to construct a confidence-teaching curriculum that it will offer to schools as part of its existing puberty-education program.
Always has also partnered with video platform TED to create inspiring videos aimed at helping young women become more confident.
British actress Maisie Williams has lent her support to the cause. "I love the way 'Like a Girl' made me think, and I love the positivity it is generating," she said. "It has become more than a hashtag, it's a movement. The message is, girl, you are amazing and you're not alone."
The new campaign marks a significant step forward for "Like a Girl," which originally lived primarily on social media. The first film went viral after P&G decided to air the spot during the Super Bowl.
To achieve that kind of social resonance twice with the same campaign is a challenge for any brand. Roisin Donnelly, brand director for Northern Europe at P&G, said the company hopes the new campaign elements will resonate in their own way. "I expect a different impact," she said. "The first one was so surprising and so different and challenged the norms and it worked very quickly.
"This [one] will have an impact, but it won't be the overnight YouTube number of views. It's important to look at the partnerships," she added. "I think the impact with TED, creating deep content with the right people, will be extraordinary. There will be a depth of message."
Lauren Greenfield, the director of both "Like a Girl" ads, said: "We hope this video allows a conversation where we can see our own boxes and imagine a world without them, and where girls can express themselves freely."
Read the full story on marketingmagazine.co.uk.