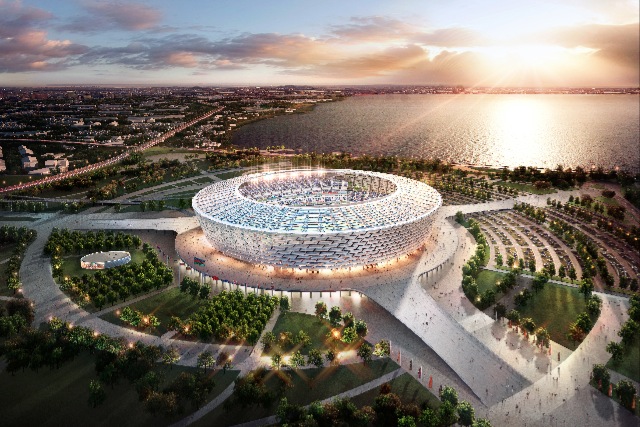 Even the commercial director, Charlie Wijeratna, who oversees all marketing for the Games, admits "nobody knows what the European Games is".
The Games certainly do not lack credibility. In 2012, the National Olympic Committees of Europe voted for the creation of the European Games, which will involve 6,000 athletes and will run every four years.
Azerbaijan is a growing market looking to raise its profile. However, some have questioned the suitability of a country facing widespread criticism amid reported human rights abuses playing host to what have been dubbed the European Olympics.
So, with little awareness of the European Games among the public, and a negative narrative as its backdrop, what possible draw is there for brands to get involved?
The branding of Baku
The organising committee has now kicked off a PR campaign, first unveiling the Baku Games logo, which has been designed to capture the "modernity and dynamism of the Games with strong cultural references" to showcase Azerbaijan's culture and history across Europe.
This week, four broadcast agreements were announced, with deals in Romania, Hungary, Turkey and Belgium secured and a UK broadcast partner set to be revealed "before the end of the year".
But while a raft of heavy hitting brands have already been signed as sponsors - including McDonald's, Tickethour and Milla as official partners, and P&G, BP, Tissot, and Nar Mobile as sponsors - Baku Games organisers have so far remained tight-lipped about plans to promote the Games. To date, there has been an absence of any high profile activity from sponsors to highlight the association.
Speaking to Marketing, commercial director Charlie Wijeratna revealed a campaign would roll out "across the whole of Europe", comprising digital advertising, social media and TV over the coming months. The digital campaign will kick off in November and December, he added, with a focus on "top class sport" and the "stunning backdrop" of Baku.
A series of YouTube videos featuring top athletes are also being developed as part of the campaign, which Wijeratna hopes will go viral across Europe.
Nobody knows what the European Games is – there were seven year to prepare for the Olympics, we have 18 months
"Nobody knows what the European Games is – it's a new event", he says. "It's a really strong marketing challenge – how do you create a new brand and get people interested in it? We had seven years [to prepare for the Olympics in] London, here we have 18 months, and it's a real challenge."
Wijeratna has already secured deals with a handful of leading brands, and says he has had a high level of interest. He is confident that they can secure between six and eight tier-one sponsors and eight to 10 second-level sponsors. That would be more than double the current number of brands involved.
Reputational challenges of Baku 2015
Despite the numerous challenges around perception of the Games in Baku, Wijeratna would not be drawn on the reputation of Azerbaijan, only saying he is "very focussed on delivering" his remit.
But while there are obvious business benefits for brands building relationships with growing markets such as Azerbaijan, sponsoring sporting events in host nations marred in controversy can also carry reputation risk.
"The reality is they selected Azerbaijan because it's an affluent city that has the financial backing to put it", says Drew Barrand, associate director of sport communications specialist Pitch. "They have to make it as a commercial decision; it's not their place to solve social issues.
There are massive pros to sponsoring it – there are 6,000 athletes, 18 venues, 240 medals – it's not insignificant
"This is about increasing the bottom line in growing markets. There are massive pros to sponsoring it – there are 6,000 athletes, 18 venues, 240 medals – it's not insignificant".
Barrand adds that brands are "waiting and seeing what happens before they get involved", but that there have been conversations in the background "for about a decade" about launching the European Games.
The point is, he says, that a lot of people would like to see the European Games take over the Commonwealth Games, which could prove a great opportunity for brands to showcase across Europe in future.
"The challenge with Olympic sports is that they need to extend their moment in the sunshine when the world is watching beyond the four-year spike of the Games themselves", adds Barrand. "Europe still lacks that major event outside of the Olympics. The Commonwealth Games does that to a degree but the endgame for those who are pro-European Games is to take over the Commonwealth Games. It'll certainly be a battle".
But Ben Lloyd, senior director at Milward Brown, a market research and neuroscience consultancy, argues that while it's "unfair to compare it to the Olympics" on scale, with less than a year to go, the "lack of awareness and lack of sponsorship begs the question: who's going to benefit from the Games - the Games or the sponsors?"
The lack of awareness and sponsorship begs the question: who's going to benefit from the Games - the organisers or the sponsors?
"What I find most strange," he says, "[is that] I've worked with typical sponsors of these events and had chats about the value of sponsoring this, [but] where is the opportunity here?"
Lloyd believes the event has more to gain from the sponsors' involvement than brands would gain by association. Sponsors would benefit from establishing themselves in a "growing market" but would also need to exercise caution over brand positioning, given Azerbaijan was seen as a "contentious" choice of host, he adds.
"Gone are the days of just slapping a logo on a stadium. It's more about the execution of a clearly defined message. The Games need to make sure they provide that."