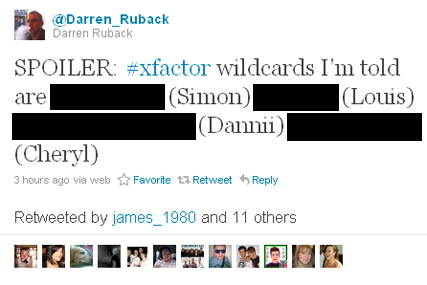 Insiders at 'The X Factor''s production company are said to be "fuming" after the names of four new contestants – to be reintroduced in an unconfirmed new feature in the show – were leaked across the blogosphere and confirmed by numerous sources, including a high-ranking journalist at a national newspaper, through his official Twitter feed.
If the names of the acts being touted online turn out to be correct (and for 'The X Factor' fans out there we'll let you decide whether or not to discover them) it will come as a blow to the thousands of Gamu Nhengu fans who have flooded social networks Facebook and Twitter with messages of support since she was dropped from the competition on Sunday night in front of 16.2 million viewers.
A spokeswoman for Talkback Thames, the producers of 'The X Factor', confirmed that national newspapers were aware of the four wildcard candidates but the company had struck a deal to keep the names quiet until Saturday night when the next episode airs.
It is the second time in less than a week that details from the show have appeared online ahead of ITV's major "appointment to view" primetime show – the 12 initial finalists' names were leaked and posted on Saturday evening, the day before Sunday's official announcement.
Following the leaks, ITV bosses will be delighted when the live shows begin and the opportunity for the spoilers to appear online, ahead of what should be the banker of its Saturday and Sunday night schedules all the way until Christmas, comes to an end.