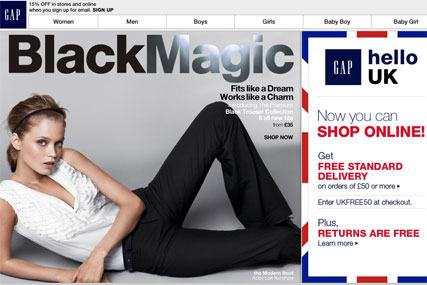 The shopping service launches with the offer of free delivery on orders more than £50 to UK addresses. Banana Republic and Gap have separate online sites but serve customers via one checkout.
The Gap store goes live with men's, women's and children's clothes, as well as some accessories, but no shoes. Banana Republic is selling men's and women's clothes and accessories, also without shoes.
The launch of the UK stores are part of a wider push to make online shopping available in 50 countries, with Gap's US websites directing overseas visitors to their local sites. Previously, people wanting to buy Gap clothes online in the UK had to go via Asos.com.
Gap's move comes ahead of the launch of online stores from Spanish fashion retailer Zara, due to open on 2 September, and H&M, due on 16 September. Zara already had a homewares site for the UK but is making its clothes available for the first time. H&M's new site will sell homewares, which are currently not available in its high street stores.
Banana Republic was acquired by Gap in 1983 and opened its first UK store in 2008 on London's Regent Street. Its clothes that are more expensive than the Gap's range.
Gap was founded in 1969 and now has more than 3,000 stores globally.