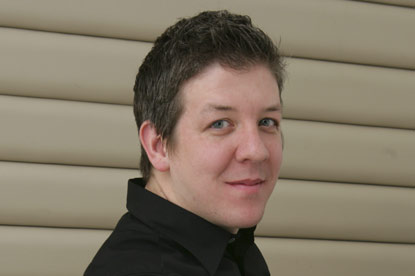 Gareth Goodall began his advertising career in 1999, when he was invited to join the Ogilvy and Mather graduate scheme. It was a great place to start, he says - and along the way, he made some lifelong friends, "survived two Argos Christmases" [the retailer was then an agency client] and helped give birth to Lucky the Dog, the canine face of More Than.
He also discovered that account management wasn't quite his thing - but planning assuredly was. Eventually, in 2005, he got a phone call from Fallon and the sort of offer you just don't turn down.
But it was, he freely admits, something of a culture shock: "I'd heard they were a tough bunch, but even I was shocked to find that my first job was to kill off Lucky the Dog," he recalls. "I felt bad... but he was beginning to get a taste for the celebrity high-life and was regularly being turfed out of the Groucho."
He (Goodall, not Lucky) has been best known since for his work on Sony, Ben & Jerry's and Orange - and he's now on the committee of the Account Planning Group, where, interestingly, he's responsible for "new talent".
There have been, he reckons, three main influences on his career to date: "I've had good fortune. Craig Burleigh took me under his wing at O&M and nobody could ask for more than that. I will be eternally grateful to Jane Cunningham for letting me move into planning and for caring. And lastly, of all the wonderful people at Fallon, I have worked with Magnus Djaba for eight of my ten years in this business. Along the way he's told me some hard truths, and some nice ones too. And, at the end of a long night, we're pretty much the only ones who can still understand one another."
Goodall is famed for a down-to-earth sense of humour that betrays more than a little dry Northern-ness. Although he spent some of his formative years in Uttoxeter, he comes originally from Bolton and you can still hear more than a hint of a Peter Kay style to his delivery.
When he's asked what might propel him onto the next A List, he answers: "If it happens, I see it less a matter of propulsion and more a gradual ascension based on good old-fashioned backstabbing, espionage and treason."
But LIZH's partner Nick Grime reckons he'll have no such need for subterfuge. "Gareth is creatively intuitive and his no-nonsense style, aligned with the talent around him, plus being given room to make his mark at Fallon, should mean that in 2010 he establishes himself as one of the leading planning heads in London," he says.
Still, the prospect of joining the industry's elite sometimes seems, he admits, like a surreal dream. He invites us to share the vision of him ultimately setting up an agency called, with elegant simplicity, "Goodall," only for it all to go horribly wrong, resulting with him ending up "back on the streets of Uttoxeter telling anyone who'll listen that I coulda been a contender."
But he's even more compelling when talking about the structural challenges faced by agencies. He reckons we'll see the evolution of what he terms "the Dirty Dozen" approach. "I think we'll have creative generalists surrounded by creative specialists, all hand-picked on a project-by-project basis to get to the best possible answer for clients. For talented planners, there has never been a more exciting time to work in this industry. They don't have to choose between being 'digital' or 'channel' or 'traditional' - and the creative opportunities are endless."
But does he think that the industry doing enough to attract, retain and nurture talent?
Again, that dry wit shines through as he concludes: "The fact that this industry is hard to start out in is a truth I won't forget. But we must be doing something right because the young planners I work with and meet through the APG are an incredibly talented bunch. All they need is a chance. It's beholden on every single one of us to deprive them of that chance for as long as humanly possible so they don't expose us and take over the world."