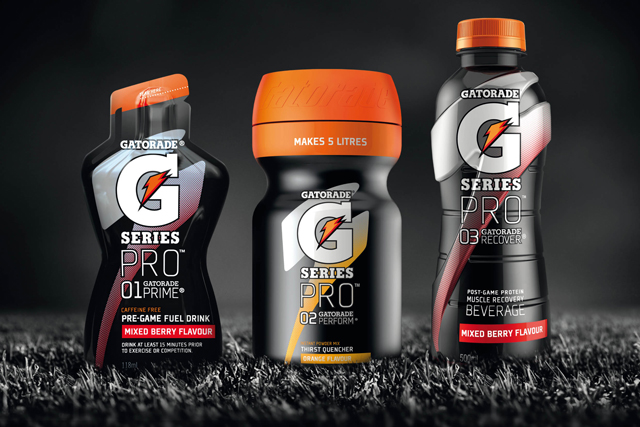 The brand is switching from a sports hydration drink to a sports nutrition drink to better target athletes. The new G Series Pro range includes a complete choice of nutritional products to help athletes to "prime, perform and recover, ahead of, during and after exercise".
The supporting "Game Changer" marketing campaign, created by Iris, will feature press, outdoor, digital and point of sale activity. The campaign will run across health and sporting press, while outdoor activity will include leisure and sports club outlets.
Gatorade will also provide bespoke chillers, posters, shelf talkers and free-standing pop up shelves to further drive sales.
PepsiCo, which owns Gatorade, has a bottling agreement in the UK with Britvic, who are producing the brand.
Jon Evans, head of Gatorade marketing at Britvic, said: "The launch of the Gatorade G Series Pro gives us a great opportunity to reposition Gatorade to an audience of athletes who are passionate about exercise and elite level sport.
"Gatorade is the most researched sports nutrition drink and with the line already established in the US we feel we're in a great position to offer a fantastic product.
"The brand's relationships with athletes and scientists further adds credibility to the range. Gatorade has great testimonials from professionals such as David Brailsford, British Cycling's Performance Director, who has recognised the gains that Gatorade provides his team."

Gatorade rebranded as "G" in the UK in March, to appeal to more athletes and active consumers as PepsiCo moved the brand towards a global identity.
Two months later, PepsiCo carried out a marketing reshuffle, shifting its Quaker Oats UK marketing director, Hayley Stringfellow, to Gatorade's marketing director.