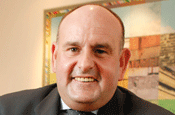 In a statement to the market on Monday night, privately owned Global said its offer of 225p a share for GCap had been accepted. The offer was an 86 per cent premium to GCap's closing price before news of the approach came
out.
Shares in GCap rose from 21p to 218p in early morning trading.
The merged commercial radio group will command almost 50 per cent of UK radio advertising.
The deal was reached one hour after a 5pm deadline set by the Takeover Panel had been extended.
In a statement, Charles Allen, the chairman of Global, which owns Heart and Galaxy, said: "We are excited at the opportunity to build on GCap's position as the leading commercial radio player and are committed to providing the best platform for both our advertisers and our listeners."
Ashley Tabor, chief executive of Global, is expected to lead the merged group.
GCap chairman Richard Eyre is expected to leave, along with GCap chief executive Fru Hazlitt, who is expected to collect a £1 million payout, after taking up the role just three months ago.