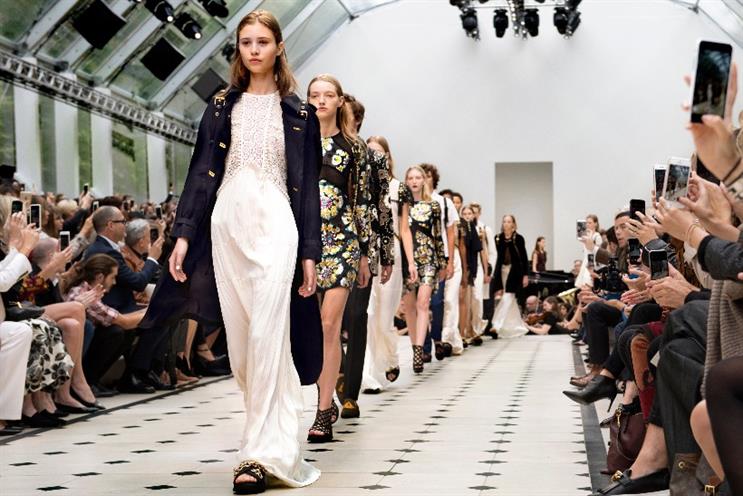 This time last year, Fyodor Golan and Microsoft partnered to create an unusual catwalk installation featuring Nokia Lumia phones. Topshop featured some of its new collection on Facebook rather than on the runways, while Burberry enabled instant purchase from Twitter.
This year saw more established fashion brands dabbling with technology, while others failed to nail the basics of social media hashtags, costing them wider exposure. Here's a roundup of the digital hits and misses at London Fashion Week.
Hits
Burberry targets Asia with Line, Snapchat and Kakao
Burberry has maintained its leadership in digital fashion, using digital to market its brand to a wider audience and reserving the catwalk show for showmanship and spectacle.
The company – which has taken a sales hit in Asia – has particularly stepped up activity with chat apps popular in China, Korea and Japan.
The brand previewed its key catwalk looks on Snapchat, a day before the physical Spring/Summer 2016 show. It also offered Japanese and Korean viewers using LINE and Kakao a way to buy Burberry Beauty products directly from the runway.
Along with the chat apps, the show aired live on YouTube, Google+, Facebook and Twitter, plus Burberry's own properties. According to the brand, this brought in the "largest audience" to date, though it didn't give out numbers.
Burberry also used its new partnership with Apple Music to livestream Alison Moyet performing at its show.
House of Holland's NFC payment ring
Where Burberry used Snapchat to make its brand more accessible, Henry Holland used technology to give special privileges to influencers.
The designer partnered with Visa to create a ring embedded with NFC technology and pre-loaded with £500, which were then handed to VIPs including Alexa Chung and Daisy Lowe.
Certain models wore smart brooches, and the VIPs were simply able to approach them after the show, touch the brooches with their NFC-enabled rings, and pay for items straight off the catwalk.
Holland told the Telegraph: "A really big thing for me was making the tech invisible, especially if I'm incorporating it into something as important as my show.
"From my point of view it was really about creating two items – the ring and the brooch – that were really desirable pieces that people would want to wear themselves, but just happened to have those capabilities."
The technology was, according to Visa, a proof-of-concept, and could be rolled out among other luxury stores.
Ralph Lauren on Periscope
Joie de vivre at the #RLRunway Spring 2016 show. Watch the full livestream on @Periscopeco: https://t.co/it5Z2Xzkj2 https://t.co/rTYkDphorp

— Ralph Lauren (@RalphLauren) September 17, 2015
Ralph Lauren, differentiating itself from the riff-raff livestreaming on YouTube, decided to partner with Twitter-owned Periscope to broadcast its New York Fashion Week show.
As well as Periscope's 10 million users, the show was screened to Piccadilly Circus, about 10 minutes' walk from Ralph Lauren's flagship store.
Marketing chief David Lauren told WWD: "Periscope has more than 10 million users so the potential is tremendous, and they're a very savvy audience.
"Additionally, there are the [estimated] two million or so people passing through Piccadilly each week, and very few of them probably expected a front row seat to New York Fashion Week."
...and misses
Versus Versace
Versus Versace, the leather-clad younger sister to the main Versace brand, made its debut at London Fashion Week – but failed to build much digital buzz.
Though the show itself was lauded, Versus was outgunned on social media by established brands like Topshop, Burberry and Vivienne Westwood. Even JW Anderson, formerly a Versus collaborator, had a strong showing by comparison.
According to data from Socialbakers, Versus Versace barely registered on the social media radar. The analytics house counted engagement metrics (likes, replies and favourites) across Instagram, Facebook and Twitter. It also measured top brands by new followers gained.
The top 10 were dominated by brands like Topshop, Burberry, Vivienne Westwood, Hunter, Julien Macdonald and Swarovski. But Versus Versace didn't feature in the top 30 by any metric.
Jonathan Saunders
Another London Fashion Week favourite, Jonathan Saunders, also failed to have much impact on social.
One reason might be that the designer's social media team shunned the #LFW hashtag on Instagram and Twitter, instead tagging photos #summer16 and #jonathansaunders. Like Versus Versace, Saunders was outdone by high-street brands and LFW stalwarts in terms of social engagement – despite high standing with fashionistas.