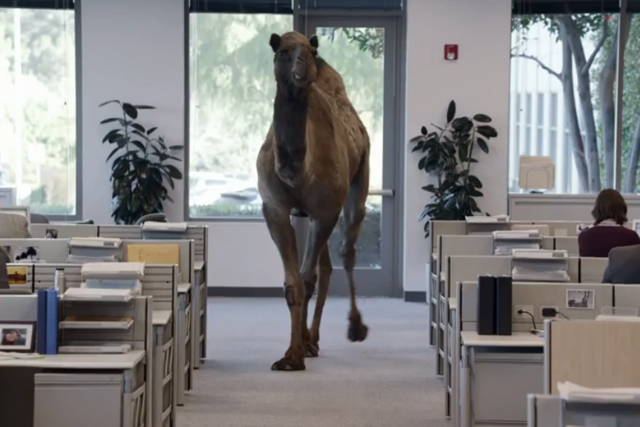 The ad is well executed; it's also short and humourous.

8.5 / 10
What do NBA star Dikembe Mutombo, Dracula, Dough Boy and a camel have in common? They all star in a series of ads from car insurance firm Geico, called "Happier than", and do quite unusual things.
The brand re-launched its successful campaign from last year and it's now presenting viewers with more examples that answer the following question: "how happy are folks who save hundreds of dollars switching to Geico?"
The newest ad presents a very cheerful camel, who naturally works in an office. The reason for his delight is because it is Wednesday, and as everyone knows (?!) Wednesday is hump day.
As weird as all of this sounds, it actually works. The ad is well executed; it's also short and humourous, which follows the trend of Geico's previous creatives.
Use of animals and strange creatures seems to be their theme, and not just for this campaign. Although this is not the most creative idea, their audience love it. And if something works, it's only logical to continue it.
However, even though the "Happier than" series is entertaining and Geico has been continuously creating decent content for their audience, it feels the brand is stuck on the same level instead of moving forward. It's time it stepped out of its comfort zone and explored new video possibilities - we are now in the era of interactivity and conversations driving content.