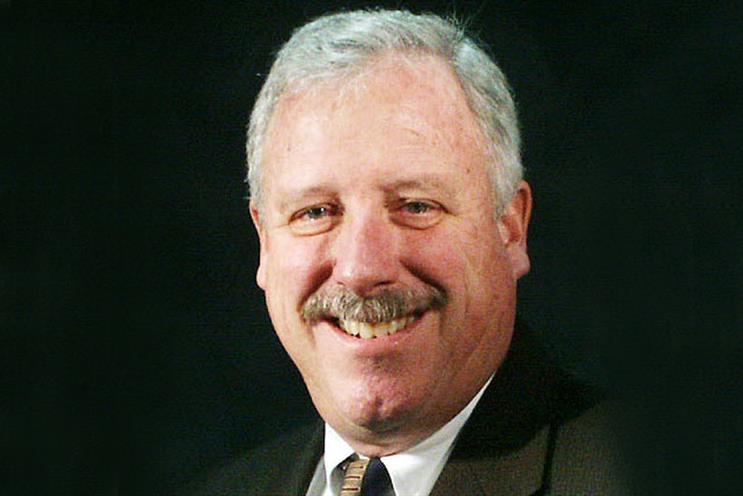 In an industry where the average tenure of a CMO is less than four years, Ted Ward, VP of marketing at Geico, is an oddity. Not only has Ward held his job for 32 years, he's worked with the same ad shop, The Martin Agency, for 22 of them.
Together, they've created some of the most popular and awarded advertising of the last two decades, all in service to the same brand message, "Fifteen minutes could save you 15 percent or more on car insurance."
It's a strategy that Ward describes as "relentlessly consistent," and it applies to both the agency-client relationship and the brand's advertising. Key members of the team on both sides have remained the same throughout the relationship, from Geico's president, Bill Roberts, who has been with the insurance company for 32 years, to the Martin Agency's CEO, Matt Williams, who was one of the agency's first account executives on the brand.
Geico's cast of ad characters has ranged from the enigmatic animated brand ambassador, the Gecko; to the Cavemen; Maxwell the Pig; the Rhetorical Questions guy; the Hump Day Camel; and more recently, the "bros" at the gym. At any time, Geico will be running multiple campaigns at once, perpetually adding narratives to the media rotation.
The advertising mix currently includes a campaign featuring "Oddly Appropriate Segues," characters that can't wait to talk about the insurance company, and the "It's what you do" series, cinematic spots that illustrates how natural it is to turn to Geico to save money with other truisms.
"One of the secrets of success is having creative ready to go when you think you're wearing something out or want to take a slightly different strategic direction," Ward says.
The strategy has served the brand well. In the time Geico has worked with The Martin Agency, the brand has grown from No. 8 to No 2 in its category. And the work has also been showered with a steady stream of industry awards.
Last year, the brand's clever "Unskippable" campaign reinvented pre-roll and won a Grand Prix in film at Cannes. The follow-up effort, "Fast-forward," which seemed to jump the action of the ads to their endings, has been contributing to the team's success on the awards circuit this year.
Earlier this month, Geico and The Martin Agency won top honors at The One Show. Geico was honored as "Client of the Year," and the agency-client team won the show's inaugural Penta Pencil, an award that honors long-lasting successful collaborations between agencies and their clients.
Campaign US asked Ward to talk about agency-client relationships and what it takes to keep creative momentum.
You've been with the same agency for more than 20 years. What's made the relationship last?
Over those years, most of the critical pieces and parts have stayed in place. It's lots and lots of consistency of both people and our approach.
Geico has had the same brand message for more than two decades. What are the origins of the "15 minutes" line?
The original pitch that Martin gave us incorporated the tagline. We had something called "the 10-minute surprise" — we could give you a rate in 10 minutes. They did a bunch of research that said that 15 was a better number. It still sounded short, but was maybe a little more meaningful than 10. Fifteen percent was enough money to matter on a product that at the time I think cost about $1,000.
How do you decide what's the right amount of edgy?
It's a process. We don't test stuff. We don't ask consumers ahead of time if they're going to like it. You'd end up with mediocre stuff if you do that, I'm convinced. We do a lot of stuff that I'd say is "out there," for lack of a better term. Who would have thought that a camel on Wednesdays would yield a "Hump Day" experience that grabbed, I don't know, 40 million viewers? I tell you, that's the art as opposed to the science of the whole deal.
It's the people inside my hallways, as well as the work that comes out of Martin. We haven't restricted the creative imaginations of the agency and don't hold them accountable for all the really bad ideas that come across our desk. There's a huge stack of stuff that will never see light of day. Let's put it that way. At the same time, if we didn't take a couple of chances here and there, we would probably have never hit the number of home runs that we hit.
Maxwell the Pig was a surprise hit, wasn't he? We don't see the Gecko as often as we used to. What role does he play in the advertising mix these days?
We use him as a brand ambassador. When you see the green lizard on your TV screen or at an event, it has become instant brand recognition. It allows us to have him deliver some very simple messages. Like right now, we have him delivering a message that's about our emergency road service. He's got a car stuck in a tree, or he's got a flat tire on the side of the road. Geico is coming to help him and save the day. We try to use him judiciously because there's the danger of having him just become wallpaper. Everybody has seen him so much.
How do you define good creative? Any personal favorites?
One of my favorite campaigns, we had celebrities interpreting our policyholders' experiences. We had Little Richard interpreting one of them, a woman that had a claim handled over Thanksgiving. His famous line of, "Mashed potatoes, gravy with cranberry sauce." It was a very, very unusual way to do testimonials, having — I'll say it — B- or C-level celebrities interpreting stuff in quirky fashions.
Geico has won many industry awards, most recently at the One Show. How do awards fit into your measurement of success?
Oh, they're an excuse to go have a cocktail with the ad agency. That's exactly where they fit and that's how important they are. They're more important to the agency than they are to us. To the agency, it's proof of good work. I very seldom go to them. I went to The One Show last week because that was a big deal.