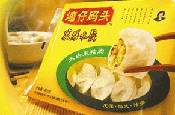 Wanchai Ferry will launch early next year and will be backed by a £2m ad campaign by Saatchi & Saatchi. The ads will encourage consumers to be more adventurous with Chinese cooking. Media planning will be handled by Universal McCann.
The Wanchai Ferry range will be packaged in the form of dinner kits in a similar vein to Mexican food brand Old El Paso, also owned by General Mills. Ed Culf, UK marketing director at General Mills, said there was an opportunity to target cash-strapped consumers looking for a low-cost treat.
Wanchai Ferry's first UK variant will be a Cantonese Pork Recipe Kit.