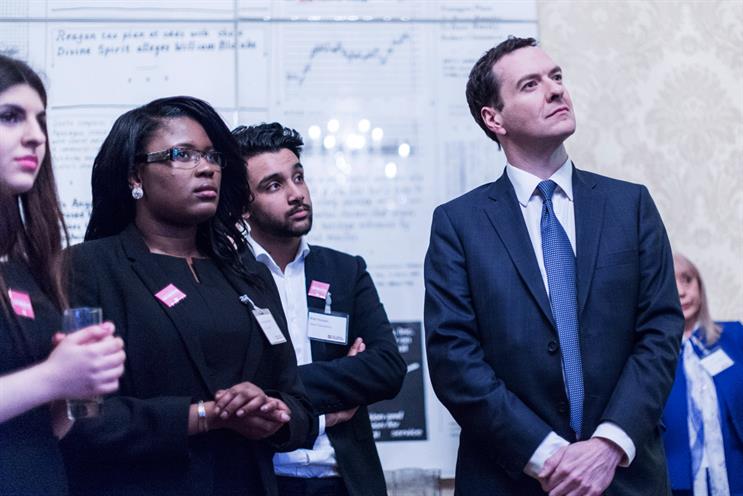 In celebration of 11 years of The Ideas Foundation, a creative charity founded by WCRS president Robin Wight, the chancellor hosted an event at 11 Downing Street for 20 young people from across the country as well as leading marketers, business people and agency chiefs.
Event attendees included the former education secretary and current chief whip Michael Gove, Keith Weed, the Unilever chief marketing officer; Andrew Griffiths, Samsung UK's managing director; Karen Blackett, MediaCom's chief executive, James Murphy, the chief executive of Adam & Eve/DDB, Tom Knox, the chairman of DLKW Lowe and the next IPA president, and the chairman of Bartle Bogle Hegarty Jon Peppiatt.
Osborne told the assembled audience that he'd known Wight for many years and that the Ideas Foundation was "the best idea you've ever had." He added that Wight had wanted to paint the door of 11 Downing Street pink for the event, but that as the Greek finance minister was coming there earlier that day, he didn't think it sent out the right message.
He added: "The UK is home to a vibrant and growing creative industries sector, which contributes over £76 billion every year to the UK economy.
"The UK is home to a vibrant and growing creative industries sector, which contributes over £76 billion every year to the UK economy.
"It is driving growth, creating jobs and generating tourism and that's why the Government is ensuring that supporting it, through measures such as tax reliefs, is a key part of its long-term economic plan.
"It is right that the sector ensures that it is truly representative of the whole of the UK and I was delighted to welcome the Ideas Foundation to Downing Street and hear about the fantastic work they are doing to develop career paths for people from all backgrounds."
While tax relief can be found for those working in theatrical film production, advertising is one of the categories excluded from tax reliefs, according to the Treasury's Creative Sector Tax Reliefs document, published in April 2014.
Tax reliefs are eligible for film, TV, animation and video game production.
Two of the young people at the event have moved on from the Ideas Foundation to work in the advertising sector.
Alan Chu worked on his first Ideas Foundation project when he was 15 and then on briefs sponsored by Talk Talk, Barclays and McDonald's. He is now employed as a full-time junior designer at DigitasLBI.
At 14, Xandria Carelse-Dutlow worked on an Ideas Foundation project in Hackney. She now works for Landor, the brand consultancy.
Jonathan Akwue, the chair of the Ideas Foundation and a partner at Engine said: "Employment opportunities in the creative industries are growing quickly year on year.
"We need to ensure as an industry that we are attracting the best talent from the varied backgrounds that best reflect our audiences.
"Not only is diversity a morally important issue, it's an economic one too."