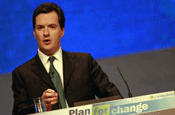 Speaking at the Conservative Party conference in Birmingham, he said that, if elected, the party wanted to cut national and local taxes.

In January, The Tories promised to bring in a new code of conduct to limit ad campaigns by the Government if they win the next general election.

Speaking today, Osborne said: "In the private sector when times are tough you take out the overheads.

"The consultants are sent packing and the advertising budget is cut. Government should do the same."

He added that the move would help the party to reduce the tax burden during any future term in office.

The government spent £157 million on advertising during 2007-08.