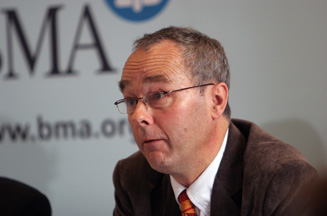 'He seems to be the academic of choice when you need some research to support your call for an advertising ban,' says Hamish Pringle, director-general of the Institute of Practitioners in Advertising.
Hastings is the UK's first professor of social marketing, as well as the founder and director of the Institute for Social Marketing and the Cancer Research UK Centre for Tobacco Control Research, based at the University of Stirling. He became known to the marketing community as a vocal supporter of a ban on tobacco advertising, and has been attacking cigarette ads for the past two decades.
Ad executives may remember him as the man who put together a damaging expose of their practices. In 2000, Hastings was commissioned to sift through internal documents handed to the Health Select Committee from tobacco companies' ad agencies. The resulting report, 'Keep smiling - no one's going to die', which takes its title from correspondence from a creative director to his client, cast the industry in an extremely bad light.
Since the implementation of the last tobacco ad ban in 2003, Hastings has set his sights on further measures. The removal of point-of-sale displays and restrictions on vending machines, which he called for, made it into this year's Health Bill; however, plain packaging for cigarettes, which he also supports, is not in the legislation.
Last year, Hastings told the BBC: 'Children are still being exploited and, ultimately, they will only be truly protected when tobacco marketing, in all its forms, ceases to exist.'
His ambitions expand beyond tobacco and alcohol, as he also influenced Ofcom rules governing the TV advertising of foods high in fat, salt or sugar (HFSS) to children. In 2003, amid consternation from the marketing industry, he was commissioned by the Food Standards Agency to investigate the effect of brands' promotional activity and its link to children's eating habits by drawing on studies from around the world.
He concluded that advertising to children did have an effect on their preferences and consumption, and this was used to support the ad ban on HFSS foods during children's programming, which has been in force for the past two years.
Industry insiders were particularly annoyed that much was made of a small-scale 1983 study from Ohio, which revealed a statistically significant relationship between a child's exposure to advertising and the number of snacks eaten.
Retired marketing academic Tim Ambler says that, as a 'social marketer', Hastings holds commercial marketing activities in a dim light.
'Commissioning social marketers such as Hastings to publish the research the BMA wishes for its own lobbying ends betrays its claims to science,' he argues. 'I would have been more impressed by papers from both pro- and anti-lobbies to get toward the common ground and the truths of the matter.'
Cost of bans
A total ban on alcohol ads will leave a £180m revenue void for media owners, according to Nielsen.
Ofcom has estimated that the ban on advertising food to children that is high in fat, salt or sugar will cost about £39m in lost TV ad revenues.
The British Retail Consortium and the Association of Convenience Stores estimated the cost of refitting storesto accommodate a tobacco-display ban to be from £1000 to more than £10,000.
Source: Nielsen, Ofcom, the British Retail Consortium, the Association of Convenience Stores