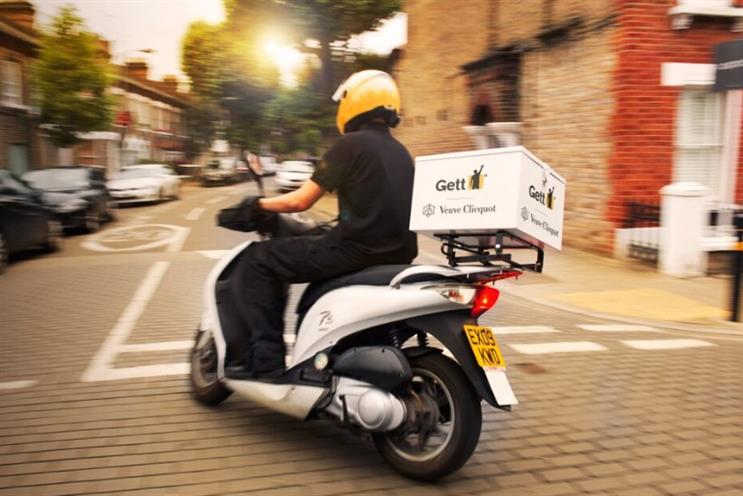 Gett, usually a taxi hailing app, has now partnered with Veuve Clicquot to deliver bubbly to Londoners within 10 minutes of ordering. That's provided customers are within Shoreditch, Clerkenwell, the City, Knightsbridge, Belgravia or Kensington.
The service is available every day between 4pm and 10pm, though Gett is not giving away Champagne for free. It costs £50 to have one of Gett's cab drivers-in-training, or "knowledge boys", deliver a chilled bottle of Champagne and two flutes by motorbike.
The tie-up marks an expansion of Veuve Clicquot's existing Champagne gifting app, which lets customers send a bottle to friends at bars or restaurants.
From taxis to logistics
Gett has been on a wider marketing push in the UK, in a bid to snatch market share from Uber.
Uber doesn't release user numbers, but is currently the most popular iPhone taxi app in the UK, according to App Annie. No rival appears within the top 100 apps, despite the existence of several other rivals like Kabbee and Hailo.
Gett distinguishes itself from its main rival by promising no surge pricing – inflated prices dependent on time of day and demand – and sticking to black cabs.
But like Uber, Gett is exploring the possibilities of becoming a logistics business, partnering with brands to deliver items to customers.
Aside from its ice-cream partnership with Wall's, Uber has previously partnered with Johnnie Walker, Spotify, Xiaomi, and Bacardi.
Gett CEO Remo Gerber said more brand partnerships would follow.
He said: "For the past five years, we've been moving customers around safely and now 'Gett Clicquot' will use the same business model to bring this revolutionary new service to Londoners.
"This is the start of a wide new range of services to be offered through the Gett app. The consumer demand is enormous."