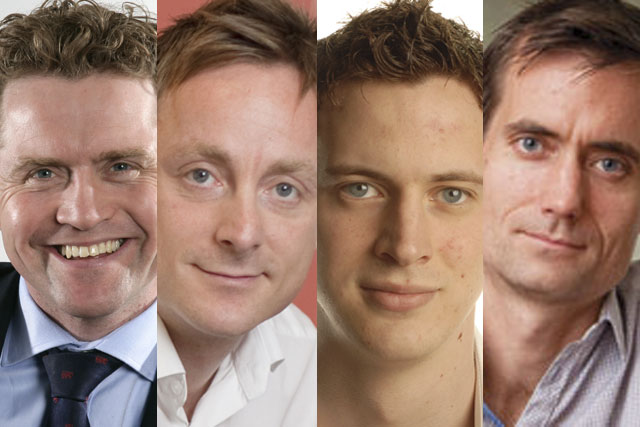 Described by Google's Eric Schmidt last summer as a "consumer-led revolution" where all of the "really, really clever stuff is going to happen" from a development point of view, the jury was out as to where spend was going to come from.
Intrepid FMCG and retail clients are playing their part in fuelling growth, supplementing spend from Entertainment & Media, Telecoms and Finance sectors. For Claire Valoti, managing director of O2, the latest IAB/PwC study reflects a confidence that both brands and media agencies now share around mobile.
The managing director describes an evolution in terms of budget allocation, from initially being part of experiential, to moving to the innovation part of media spend, then, as the economic environment changed, now finding itself part of digital spend.
"We are beginning to compete for banner and display budgets," says Valoti, "and also where there is budget for video, we are able to have conversations to be part of the mix."
For Valoti and O2, the end game is to move to a "+1" model, where mobile is used to compliment and amplify all traditional media channels, thanks to its interactivity and location-based opportunities.
"So for a big outdoor shout? Add mobile. Big TV buy? Add mobile," says Valoti. "Outside back cover in The Standard tonight? Imagine what mobile could do to make that work harder?"
With this is mind, Media Week asked four leading media thinkers for their initial reaction to yesterday's topline growth for mobile.
Steve Parker, managing director, MediaVest
"The headline from the IAB figures published yesterday may have been that mobile adspend soars 157%, but maybe the most interesting trend is the change in behaviour of many retail brands.

"Tesco and Marks & Spencer are two retailers who appear to have accelerated their mobile spend. This reflects the industry figures for January 2012 that showed further signs of the media mix of the six biggest supermarkets continuing to change, with Tesco and M&S appearing to significantly increase their overall investment into all digital channels.

"Advertisers are following consumers, who are increasingly using mobile platforms for both media consumption and as a shopping channel. But the figure that might have been a surprise to many is the strength of the retail sector in this area, with a huge 123% increase in mobile display spending at a time when the sectors overall media spend is down by nearly a fifth. It means for the first time, retail is among the top-spending mobile sectors, accounting for a 12.3% share of total spend, compared with 5.5% the previous year.

"The availability of cheaper data packages and the rapid rise of apps and social media have simply made mobile devices a more attractive environment for retailers of all kinds. The role of the device is varied from awareness driver to conversation facilitator to purchase device.

"Retailers that are committing to investing in this space are reaping the early rewards and preparing themselves for the inevitable change. Retailers that embrace this are also seeing new peak shopping times outside of traditional desktop times, proving that it isn't simply cannibalising audience but adding to it.

"M-commerce is clearly becoming more important with the IAB claiming that 24% of consumers have bought a product or service via their device, while 38% of respondents to its Mobile Online Journey study on January have used their phones in store.

"Alongside the increasing importance of m-commerce sits the extraordinary growth in the use of social networks across mobile devices. According to comScore data for January, 18.8 million of the UK mobile audience (38%) accessed social media via a device in the three months up to January 2012, a 35.6% increase year on year.

"This will be of particular interest to the major supermarkets who have worked hard across all social channels to improve the quality of content and conversation and importantly the level of engagement they have with consumers. Mobile devices are a critical platform for this driven by smart phones and tablets."
Stefan Bardega, managing partner, MediaCom
"I am surprised frankly that the growth is not higher. The reality is consumer adoption of mobile devices is far outpacing the adoption of the channel by advertisers. As an industry we are lagging well behind the consumer.

"Time spent with mobile devices is averaging upwards of 20% yet investment by advertisers is still only 1% -2% so there is a long way to go. And the speed of adoption is far faster than anything we have ever seen. Think about it this way; smartphones with internet access currently represent 50% of all phones, assume average mobile contract is 18 months and also assume that almost everyone getting a new phone is going to opt for a smartphone, and you will have 100% mobile internet access within 18 months.

"The big growth in paid search (which contributes the lion's share of the market) is actually being driven by a number of factors. Firstly consumers are now starting to use their mobile devices for more mobile web browsing driven by faster and more engaging browsing experience, this means that people naturally search more on Google leading to more paid search opportunities for advertisers. The other big factor here is the destination after the search. Although 60% of brands don't have mobile optimised sites, that number is increasing rapidly. And as brands start to build mobile optimised sites, paid search becomes an attractive option for driving traffic efficiently.

"As for our clients, I would say they are all now engaged in mobile to varying degrees driven largely by the category and audience. The important thing is not to try to do everything at once. Establish where mobile fits in your customer journey then build an experience that is optimised for that journey."
Sean Ramsay, digital account director, UM London
"It's the year of the mobile. How many times have we heard that phrase uttered over the last few years? By my reckoning we're in the 12th year of the mobile by now. Or is it the twelve hundredth? This time, though, I think we may be there.

"In much the same way as online was tagged on as an optional extra a few years ago, mobile has been treated as the 'non-essential add-on' in recent years. It's now shifted from a 'nice to have' to a 'must have' part of wider plans, and is certainly benefiting from digital becoming more central to many campaigns.
"It seems there has been a realisation in the market that the types of targeting that mobile media activity allows is often more sophisticated than traditional online techniques.
"The amount of information that mobile operators have on their customers is actually pretty scary from a user's point of view – but great for us planners. Combining this with a better user experience (hardware and connection speeds can now facilitate experiences on par or even better than those available online) and it's no surprise that mobile continues to be the fastest growing medium.
"As with the early years of online, search is driving much of the increased digital spend – something that is reflected in the rise of m-commerce, as users become more comfortable with purchasing through their mobile devices.
"Meanwhile, the operator offerings of targeted SMS/MMS have seen the highest increase, which is reflective of the quality of the targeting and the one-to-one nature of the messaging. This area is only going to grow faster and faster if the proposed joint venture between all of the operator platforms goes through.
"Here at UM, mobile forms a significant part of our consideration during the planning process and we're now looking at some form of mobile activity featuring on around 80% of plans.
"The size of the opportunity is huge and work has been as varied as looking at AR for Xbox through to DR campaigns for South African Tourist Board and Hotmail."
David Wilding, head of planning, PHD
"Two thirds of the reported £203m is for mobile search so it stands to reason that this is coming from existing search budgets – mobile optimisation is really just search best practice after all – albeit something that not all are still necessarily practising.

"The display spend, while up significantly year-on-year, is still really at the level that it is nibbling around the edges, in the majority of cases still coming from online display or innovation budgets.
"But clearly the rate of growth has ramped up significantly and as that trend continues, planners and clients will have tough decisions to make on where that budget comes from. Ultimately, like everything, it will come down to objectives of course.
"But mobile advertising is really only a small part of the picture in terms of mobile's potential for brands. And, in many ways, it's by far the least interesting bit.
"The obvious areas where mobile's comparative advantage comes into force are in the areas of context, location, utility and social.
"All brilliant opportunities for brands but none of them necessarily lend themselves to the disrupt and interruption model that much display advertising has been built around. And it's increasingly difficult, not to say increasingly irrelevant, to use media billings as a way of measuring this."