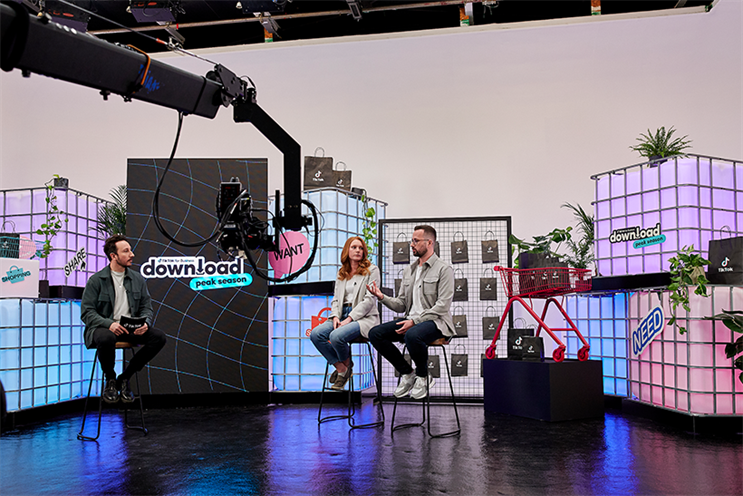 Black Friday may still be almost six months away, and Christmas even further on the horizon, but the time to start planning your campaigns is now. That's the overriding message from 'TikTok Download: Peak Season', a webinar that explores how brands can unlock the full potential of TikTok to drive maximum returns. 
The hour-long webinar is a smörgåsbord of takeaways and tips for reaching the tens of millions of users scrolling TikTok looking for bargains, gifts, and inspiration across the peak season of Black Friday, Cyber Monday, Christmas, and the January sales.
Be prepared 
"While our community is scrolling through TikTok, they're also discovering new brands and categories, from beauty and fashion, to tech, homeware, and beyond," said Tamsin Vincent, brand strategy lead, TikTok UK.
A 2022 study by Fairing found that 15% of all product discoveries across media channels, emails, and word of mouth begin on TikTok, while another 2022 report, by Dirt, found that brands are remembered 40% more on TikTok than on other platforms. Clearly, there is a huge opportunity for brands looking to creatively drive sales throughout peak season; you only have to look at the incredible 54bn views of #TikTokMadeMeBuyIt to realise that TikTok is an enormous community of hungry consumers. 
"So, to make the most of this season, brands really need to be prepared in advance," said Vincent.
Through its product suite and solutions, TikTok works with eCommerce retailers, agencies, and brands to equip them to thrive on the platform. It has three pillars: 1) Set up for success; 2) Creative that converts; 3) Measurement. 
Let's look at how they work. 
Set up for success
"Establishing data connections is paramount to the success of your campaign this peak season," said Luisa Richardson, brand strategist, TikTok Europe. 
So, why are data connections paramount? They fuel measurement, targetting, and optimisation capabilities. "Fuelling is very important," says Richardson. "It's a virtuous circle. The more you fuel our system with reliable data, the better it becomes at driving conversions for your business."  
Once those data connections have been made, TikTok allows brands to reach their objectives across the full funnel through its manager's suite. Two key tools are lead generation to capture your audience well before Black Friday or Boxing Day, and video shopping ads (VSA), to drive your objectives through the full funnel. 
"When VSA was introduced it was great for us because it allowed us to create another arm to our conversion campaigns within TikTok," said panellist Jamie Connolly, paid social lead at The Very Group. "When we first tested the campaigns using VSA against campaigns where we didn't have VSA, we found we were increasing our return-on-ad-spending [ROAS] by 12%. So they really had a tangible impact in driving demand for us." 
TikTok's value-based optimisation (VBO) product allows brands to optimise campaigns towards higher-value users on the platform. It's worth it, too: campaigns using VBO see a 36% higher ROAS. 
Explore how to supercharge sales from the For You Feed to checkout with this helpful hub that provides everything you need to know about our new product, Video Shopping Ads.
Creative that converts
"Most people think that creativity is just for branding," said Salar Tavakoli Anaraki, agency partnerships manager, TikTok Nordics. "However, we know that creativity is just as important for performance marketers. Often we see performance marketers focussing solely on data, but the technical side of performance marketing is becoming more automated. This means that creativity will become more important than ever before. And when it comes to performance creative, it needs to be impactful, engaging, and entertaining." 
"Number one has got to be creative," said panellist Jess Dickenson, COO at Precis Digital UK. "It's very competitive out there and you've got to stand out, so it's really worth investing in creative, especially if you have long lead times."
Anaraki shared a series of tips for getting creative right: Going lo-fi increases purchase intent by 12%, shooting in hi-res sees an enormous 312% lift in conversions, while leveraging sound sees a 16% increase in conversions. 
For performance marketers looking to get super creative, going native by leveraging music, transitions, emojis, and text is essential. Native ads see a 47% increase in actions taken - clicks and shares - against non-native ads. It is also important that your creative strategy includes matching your messaging with each stage of the funnel: content that focuses on relatable problems helps to drive awareness, while tips, hacks, and questions can boost interactions, and offering exclusive promotions will increase conversions. 
"Native content works the best for us. It really drives performance," said Connolly. "For example, air fryers have been a massive thing over the last year or so, and when we do air fryer hacks and recipes that is always the content that performs best. With fashion, it's all about how the outfit can be worn, and using hashtags like #GetReadyWithMe and #WaysToWear." 
Tap into the power of performance-driven selling with this guide that takes you through key platform tactics and how to produce stories that sell.
Measurement 
A 2022 report by Fospha into Q4 attribution attributed 8.8-times more sales revenue to TikTok than the last-click Google analytics model, as well as a 20% higher ROAS compared to advertisers' blended ROAS across all other platforms. 
"We know that measurement goes beyond last-click," says Anaraki. "So, using measurement tools can help brands prove the effectiveness of TikTok as part of their marketing mix. We know where and how conversions were driven, and we can analyse the true incremental impact of your lower-funnel conversion campaigns." 
This snackable guide helps you to quantify the true impact of your TikTok ads, including the measurement solutions we offer to prove that TikTok is a perfect fit for your marketing mix.
For more tips and details on how TikTok can help your brand seize key moments and maximise returns during peak season, watch the webinar here.