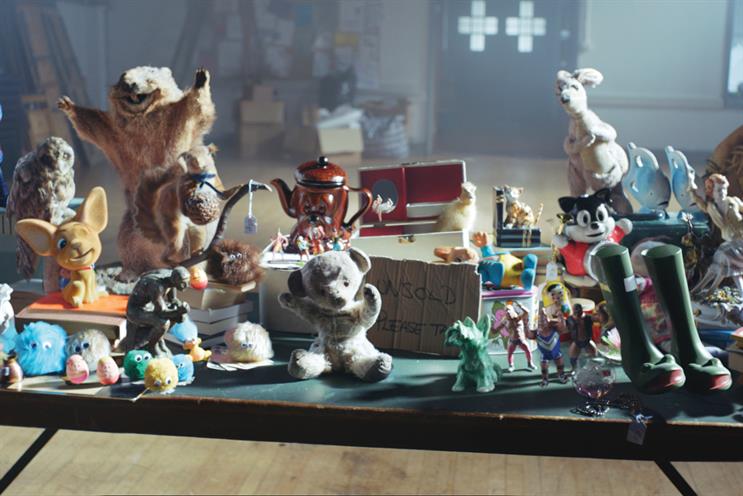 Tell us about the project. "Left behinds" tells the story of a group of unwanted items at a jumble sale singing their little hearts out to Foreigner's 80s power ballad I Want To Know What Love Is.

How did you choose the 'left behinds'? The director, Sam Brown, together with Rob Tenconi and Mark Franklin, the creative team from Leo Burnett, held a sort of open casting, where they saw hundreds of toys. We worked through each toy, discussing how they could or should move and how we could achieve a photo-real render. We were looking for personality, flair and characters who wore their hearts on their sleeves. It was also important to include familiar faces the viewers would resonate with, hence the gonks, frog wellies and Action Man.

How did you make them move? All 40 characters were shot on location. We then set about recreating and replacing 95 per cent of them in CG. Each object was scanned, remodelled, textured and rigged to create a fully animatable digital puppet. Then our animators brought our gang to life. Over the first few weeks, we filmed Sam and the team portraying all the lead characters with different emotions and movements. This footage was then used as reference.
What was the biggest challenge? Deciding how each character should move. There were key factors to every item. Certain characters had their own articulation that made sense for their animation; some, like the marmot, was stuffed many years ago. So we found ourselves pondering the strangest of things such as: how stiff should a stuffed marmot be?

What other work are you most proud of? Electric Theatre Collective had a great year working with some of the best agencies and directors. Highlights include our colleague Aubrey Woodiwiss' grade on Sainsbury's "Christmas is for sharing" and working with the visual artists Shynola on the Beats commercial. Animation-wise, the new work for St John Ambulance with Bartle Bogle Hegarty and Si & Ad is definitely worth a look.

What inspires you? Producing the best-looking work with great people. If the combination is right – working with inspiring directors, good creatives and our talented team – the rewards are huge. Not many days go by when we're not looking forward to getting into the office, and we feel very fortunate to be able to say that.