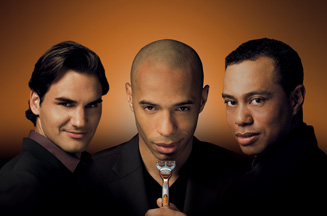 Gillette's first global branding campaign in five years is designed to expand the brand beyond shaving and strengthen the brand's emotional bond among men.
Following extensive global research among thousands of men, which found that even confident males have doubts at many moments throughout their lives, Gillette is progressing its "The Best A Man Can Get" message by with a new campaign called "The Moment." The FMCG giant says men are looking for products that give them the confidence they want and need to look, perform and feel their best.
The campaign features everyday guys, as well as the Gillette brand ambassadors -- Tiger Woods, Roger Federer and Derek Jeter -- experiencing moments of doubt and how they overcome them to succeed. The ad was created by BBDO New York.