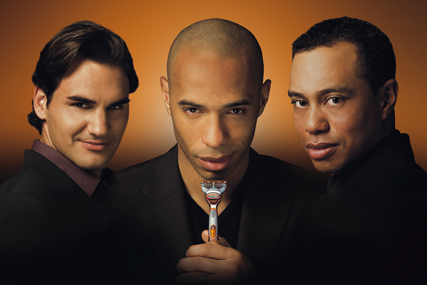 Gillette's owner, Procter & Gamble, has held talks with Formula One driver Lewis Hamilton with a view to him becoming a global ambassador for the shaving brand. Negotiations broke down, but the company is still believed to be on the hunt for fresh talent.
Gillette has not featured its current global ambassadors Thierry Henry, Roger Federer and Woods in its advertising since it emerged that the latter had been embroiled in a series of extra-marital affairs. At the time, Gillette said it would 'limit' Woods' role in its marketing activity.
However, the company has now pencilled-in a celebrity-fronted campaign for later in the year. James Nunn, brand communications manager for grooming at P&G, said that brand ambassadors will 'continue to be a tool' that the company uses in its marketing mix. However, he refused to comment on future marketing plans.

Traditionally, McLaren had not allowed its drivers to seek deals outside its own pool of sponsors, which in addition to Vodafone includes Hilton, Hugo Boss, Santander and Tag Heuer.

However, as the marketability of drivers has increased such deals have been allowed in recent years. In 2008 Hamilton became a global brand ambassador for Reebok in a multimillion-pound deal, his only personal arrangement outside of the McLaren set-up.
Last week, team-mate and current F1 world champion Jenson Button secured a deal to become brand ambassador for P&Gís shampoo brand head & shoulders.