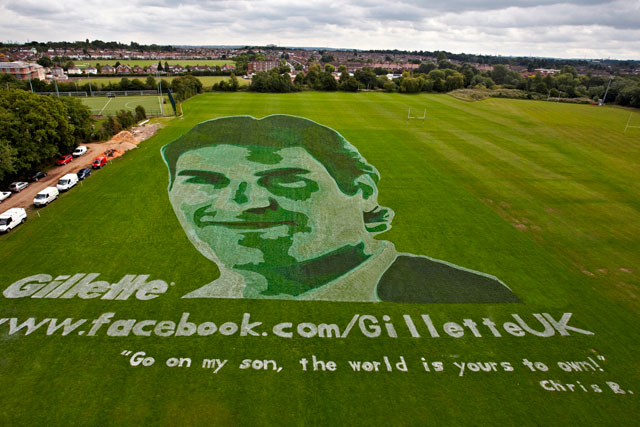 The 2,800 square metre image of the tennis star's face was painted on grass, "foamed" and then shaved as part of the brand's marketing campaign ahead of Wimbledon, which starts in South West London today.
Gillette used laser-guided robots to plot more than 14,000 mapping points on the parkland.
More than 4,000 litres of environmentally friendly paint were then used to bring the portrait to life before biodegradable foam was applied to the picture, which was then "shaved" to remove the five o'clock shadow that had been added with diluted black paint.
Gillette undertook a similar project in New York earlier this year when a giant billboard image of baseball legend Derek Jeter was also "shaved".
For the UK campaign, Gillette appealed to its Facebook community for inspiration, asking members for messages of support for Federer, and picking one for the final design.
The giant depiction of Federer is part of Gillette's campaign to promote its new Fusion ProGlide product range.
Proctor & Gamble, the owner of Gillette, is a high-profile user of sport stars, including Thierry Henry and Federer, to endorse its products.
In January this year Gillette used the twin force of rugby stars Jonny Wilkinson and Brian O'Driscoll to drive sales of the ProGlide range in a series of ads for TV.
Gillette launched the Fusion ProGile on 25 January claiming it has thinner blades than Gillette Fusion.
In December last year, Proctor & Gamble dropped Tiger Woods as a brand ambassador for Gillette razors, after revelations that he had a string of extramarital affairs.