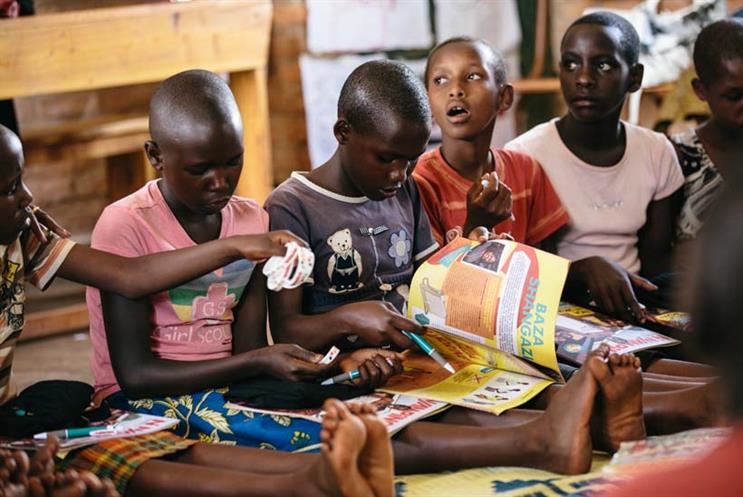 What does Girl Effect do?
Girl Effect works to break the cycle of intergenerational poverty and change the world for adolescent girls. We've identified that adolescence is such a critical time for girls; a time where they can become particularly vulnerable to violence, interruptions in their education or be forced into early marriage. At Girl Effect, we develop, pilot and scale multi-media brands, which inspire girls, build their confidence, fuel their ability to demand more opportunities for themselves and encourage more belief and action from their communities, too.
We have a headquarters in London and offices in Rwanda, Ethiopia and Nigeria. We've recently scoped new geographies to expand to, and are currently setting up a workforce in Malawi.
How does brand and media fit into your work?
At Girl Effect, we have created two authentic and insight-led multi-media brands – created by girls, for girls - that are rooted in local culture and create change from within.
Ni Nyampinga is a multimedia editorial platform in Rwanda, spanning magazine, radio and mobile, which has directly reached over a staggering one million girls so far. The editorial content challenges set perceptions, showcases female role models and offers new skills and advice for girls. Every piece is curated and shared by locally recruited girl journalists, through their own voice. The latest issue of the magazine has been distributed to 100,000 avid readers across Rwanda.
Yegna is an Ethiopian drama, music and talk show fronted by a five-member girl band. Yegna is designed entirely to inspire positive change for girls through compelling storylines, which confront real-life issues that girls face every day. Yegna has already reached millions of people. Their popularity has led to being featured on Desert Island discs and the launch for their latest series made headlines featuring a branded double decker bus. Yegna was also recently invited to perform at the historical launch of the first ever all-women function flight by Ethiopian Airlines.
We know how powerful brands can be – and I don't mean logos or products alone, but huge cultural ideas that can change the way millions of people can feel, think and act. Girl Effect is working in a very innovative way, as we leverage our knowledge of brand management and strategy to apply to the development space, producing something that can really make a difference and attracts organic, popular appeal.
Why is Girl Effect such a great place to work?
It's an exciting time for Girl Effect – we have a new CEO, Farah Ramzan Golant, who brings incredible experience from the world of brand and media, having led companies such as All3Media and AMV BBDO.
Personally, working at Girl Effect has provided me with some of the best creative challenges of my career and a lifetime's worth of adventure! I went to live in Ethiopia for two and a half years to help set up the office and launch the Yegna brand with the purpose of bringing girls together so they are more connected, visible and valued.
Girl Effect are now propelling forwards, too. We are ready to enter Malawi, where we will be working on new brand(s) and that is why we are on the search for some fresh, first-class talent to join us.
What kind of individuals do you want to come and work for you?
We're looking for people who can breathe life into a brand vision and purpose, who can deliver outstanding creative work to promote that brand and who can uncover insights, which unlock real change. We have an incredibly talented team here that have come from places such as Sky, BBC, MTV, M&C Saatchi, Truth, Mother, AMV BBDO to name but a few, so we're looking for similarly skilled and ambitious people to come on the adventure with us and to help build our brands further.