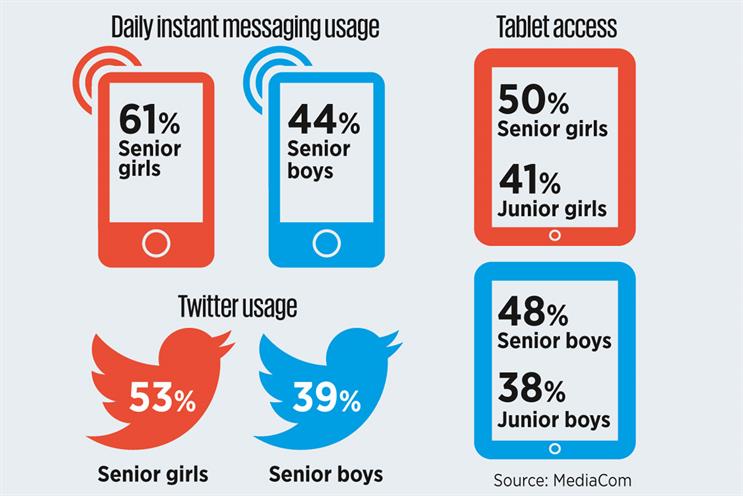 From Spice Girls To Smart Phones questioned children aged eight to 16 on their media habits.
It showed 61 per cent ofsenior schoolgirls (aged 12-16) use instant messenger services daily, compared with only 44 per cent of senior schoolboys. Fifty-three per cent of senior schoolgirls and 39 per cent of senior schoolboys use Twitter.
Girls are increasingly intolerant of ads that interrupt on-demand content, with 59 per cent claiming to always fast-forward ads, up from 49 per cent in 2010.
They are also more active in online shopping: 79 per cent of senior schoolgirls claim to make purchases online, compared with 72 per cent of senior schoolboys.
While boys prefer to use "proper" games consoles for gaming and PC screens for watching videos, girls are content to use smartphones for multiple functions such as gaming, social and video.
Chris Binns, MediaCom UK's managing partner and head of planning, said: "While girls tend to organise themselves around Facebook as a social platform, what we see is a chunk of boys who are more interested in gaming, often as a social platform itself.
"What is also interesting is the balance between involvement and observation - girls tend to at least claim to get more involved online, whereas boys are sitting on the sides a little more."
The report compiled 16 years of the MediaCom survey School Children's Attitude Monitor, which runs twice a year and involves around 1,000 children.
It found that children's bedrooms have become "multimedia hubs". Around three-quarters of senior schoolchildren now have access to the internet in their bedrooms, up from two-thirds in 2010.
Half of senior schoolgirls have access to a tablet in their bedrooms, while the number is slightly lower for senior schoolboys at 48 per cent.