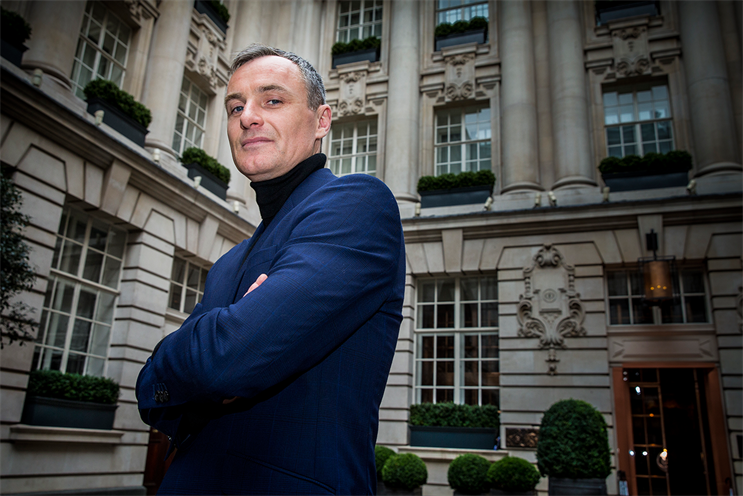 Who are the industry's biggest boundary pushers, the ones who have really made a difference? And who do they most admire? In association with The Trade Desk, we invite the biggest industry names to interview their boundary-pushing peers – and pass on the baton, in an interview relay.
In the previous instalment, Mediacom's chief commercial strategy officer, Phil Hall, chose Chris Forrester, UK country manager at Spotify as his boundary pusher. Now Phil speaks to Chris…
What made you get into the media industry?
A good friend got a job at Campaign and one evening when I joined him for a drink with his team, his boss offered me a job on the spot. She told me: "I think you can sell advertising." At the same time, I was about to take a job in the City. I had passed all the exams but I realised my heart just wasn't in it. I knew it was a strange decision to go and work for a publishing company that I had never heard of – no offence – for the half the money I could have made, but I knew I would enjoy it much more. It was a real Sliding Doors moment.
What's been the biggest transition moving from Primesight to Spotify?
The change of pace. Because Spotify is a global company, there is a constant flow of communication and there are always insights and opportunities coming from different territories. It is something I am still getting used to.
I always say to people who work for me that they should catch the balls that are meant for them and not try and catch other people's – in other words, focus on your role and your competencies. I have only been at Spotify for eight weeks, so I am still trying to work out which balls are meant for me!
What's the difference between a sales director and MD of a sales business?
It depends on the job brief and the company. Broadly, a sales director worries about sales revenue, which products to take to market, and getting the deals in. Whereas the managing director is more concerned with the P&L, managing the broader organisation, and steering all of the departments in the right direction.
How do you build a rapport with a new team?

Although the social side is important, it should only be the icing on the cake. It's essential to have a vision of where you are going, provide clarity on everyone's roles and objectives, and set boundaries. It's important to give staff the responsibility to deliver; that it's good to take risks and it's OK to fail, and ultimately give them the autonomy to do their job to the best of their ability.
I favour autonomy over compliance but only when we have agreed what compliance looks like. I have found that if you give people the responsibility to take control of themselves, they always go the extra mile – but if you tell people what to do, they are less likely to go above and beyond for you.
How do you attract and retain talent?
It's easier if you're a big brand although sometimes they don't attract the best talent for the brand. When you're small it's much harder – you have to have a great culture and win [the talent] over at the interview. It remains to be seen how easy it will be at Spotify (I suspect we do well) but at Primesight it became simple because we invested so much into making the company a great place to work.
If people feel like they have a vested interest, their voice matters and they are genuinely contributing towards a goal, they will stay. As a manager, you should provide resources and opportunity and you will eventually have a group of people who start to run themselves.
Are job roles changing?
We are increasingly bringing in data specialists who are helping us make narrative sense of our data. Despite having a very rich set of data, we don't see it as just numbers – it's information about how, when and where fans listen to music, and the stories we can tell around that. We have people who can understand the data and build an emotional story around a person's listening behaviour and motivations. There are not many brands out there doing that.
How do you plan to use this data to enrich but not commoditise your business?
If we just use data and programmatic to put an ad in front of someone, in our world we wouldn't be doing our job. Music is 37,000 years old but what's happening now is that we are continually seeking out new ways and places to listen. Music is with us everywhere, every day, and data is driving the consumer experience. If we place ads that are appropriate to a mood or moment, it can enrich and enhance the listener experience.
How fast do think programmatic buying will become the norm and to what extent?
I think we will get to the end of next year and will realise that 2017 was the tipping point for programmatic. We are going to get to the point where the old system makes way for programmatic but I don't think it will ever be 100% of revenue.
Is audio programmatic the next big thing?
I don't think it's the next big thing but most addressable media will be bought programmatically. Streaming audio is part of that natural evolution.
What keeps you motivated/interested?

Fear of failure. I have a fear of failure because I have a fear of rejection – I am adopted, so I experienced rejection at the most fundamental level as a child. I have a genuine fear of it and that extends to the workplace. If I don't work hard and do well, I fear I will lose my job.
Also, media is a young man's game, so it's important to be curious and stay relevant, as otherwise someone else will come in ahead of you.
What do you think defines a successful media agency?
What makes media agencies great is having a belief that they are contributing towards a legacy. Staff and clients will come and go, but the agency must remain focused on the long term. If they can do that, they will win out. Most agencies are on that journey – with some further ahead than others.
Also, in the light of Brexit, companies will increasingly need to invest in talent and culture, as they may need to lean on that in the months and years to come.
Have you ever considered working agency-side?
Yes, if the right job came up. I have considered it and I have a lot of respect for agencies.
Outside of media what job would you most like to do?
I would like to work with teenage boys – that may sound odd, but I lost my dad when I was 12, so I didn't have him around when I was a teenager. When my son reached that age, the importance of having a role model really hit home – something that I had missed growing up. From an early age we teach boys in a different way to girls – they are taught to try to win, that crying is not 'masculine', but then when they are adults we expect them to be in control of a full range of emotions, and to know how best to engage appropriately and sensitively with both men and women.
Unfortunately, lots of teenage boys don't have role models to help them navigate those tricky years – so get lost. There are a lot of people doing really good work with teenage boys that revolve around sport but too few do it in a working environment.
What advice do you have for a young person coming into the industry?

They need to be tech savvy, really curious, and – in relation to my last point – should really know who they are as individuals. Media can be an extrovert industry, so if you know yourself – particularly as an introvert – you're able comfortably to be yourself around a lot of extroverts. The focus we are now putting on mindfulness as an industry is important and very powerful.
Spotify specifically seeks candidates who have diverse passions outside of the workplace; whether it's cooking, gardening, or stamp collecting, we believe that having a strong passion for something demonstrates a curious and inquisitive mind, which are very important attributes in our business.
What's next for you?
One of my mottos is "I worked there then" – by which I mean that for any time in a company when I have been a leader, I would hope that someone would look back on what we all achieved during that chapter and say "I worked there then". I hope that in the future, someone at Spotify will look back and say the same. I love Spotify, the people and the product.
Then, hopefully, at some point in the near future, I will get the time to think about mentoring the next generation.
Who in this industry on the sales side do you admire and why?
I'm going to go with Dags [Simon Daglish, group commercial director at ITV]. He is universally loved, which in any industry is a rare feat. He manages to walk the line between being absolutely professional, and having lots of fun. He and Kelly [Williams, commercial director] have done so much great work, which has led to a lot of awards for ITV under him – and a great deal of industry respect. He is a great guy, who does so much outside of work for so many good causes. I don't know how he finds the time – his charitable work would be a full time job for a lesser mortal!
---
About The Trade Desk
Recently named seventh on the Deloitte Technology Fast 500, ninth in Forbes Magazine's Top 100 List of America's Most Promising Companies and #34 on the Inc. 500,The Trade Desk powers highly sophisticated buyers in advertising technology.
Founded by pioneers of real-time bidding, The Trade Desk has become one of the fastest growing demand-side platforms in the industry offering agencies, aggregators and their advertisers leading-edge technology to manage omni-channel advertising campaigns.