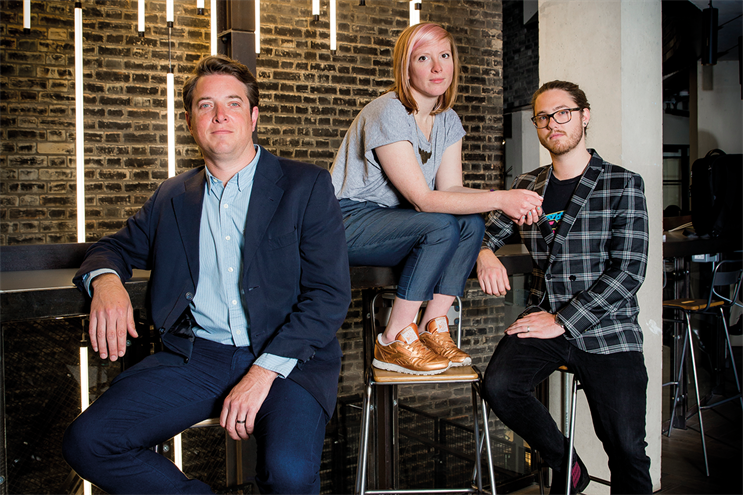 There seems to be increasing worry about the rampant rise of technology heralding the dumbing down of creativity as we know it. As this industry debate rumbles on, we say: have no fear. Embrace the vast range of new and exciting technologies on offer because, far from hindering, it only lights up the creative opportunities for us all – enabling brands to forge more engaging two-way relationships with their customers.
The concern for creativity is legitimate in some areas – automation has replaced jobs in retail and manufacturing and will likely replace jobs in the creative industries. Challenging innately human creative abilities, AI systems, such as Google's TensorFlow, are creating original music inspired by Bach and The Beatles, and writing eerie post-modern poetry after digesting thousands of romantic novels. Ed Sheeran – the robots are coming for you.
Rather than fear the future though, let's be delighted that technology will soon be able to eliminate the tedious, repetitive tasks we loathe, and, importantly, let's be excited to work with new conversational user interfaces to strengthen brands and with emergent AI, mixed reality and wearable tech that will augment, rather than replace, human intelligence and creativity.
"Ed Sheeran – the robots are coming for you"
A richer creative canvas beckons
Even five years ago, not many marketers would have thought that today we'd be devising a tone of voice for a customer-service bot, 360° filming for a VR holiday experience (as we have for Neilson), designing the interface for an AR sales tool, crafting apps for a watch, designing internet of things devices or harnessing AI-based decision-making to deliver insightful creative work for our digital CRM programmes (as we are for Investec).
Technology has just enhanced our creative canvas and ability to develop even more delightful ideas – Stevie Wonder now has a synthesiser, Björk an interactive app and David Hockney an iPad. However, it does, of course, also present us with some challenges we need to rise to.
First, while tech such as chatbots and voice-controlled assistants will make our purchasing experiences pleasingly simple, the side-effect is that the process will become increasingly rational and transactional. Intuitively, we all know that consumers will always crave emotional brand connections and our creative armoury will always need to be equipped with lashings of humour, empathy, love and brilliant ideas.
Second, we will need to ensure our agencies are truly equitable in both structure and the process of innovation. The "creative triumvirate" of creatives, planners and tech working in perfect harmony, blending data, lateral thinking and the latest technology represents the new order. This means less linear and more iterative working with democracy at its heart. (It is this approach that has led us to produce ROI-driving and award-winning campaigns such as personalised holograms for O2.)
The execution of creativity (or maybe not)
So news of creativity's death through tech and automation is premature. Challenges there are (not to mention ad-blocking, misattribution, fake views, inappropriate editorial contexts and the demands of the General Data Protection Regulation), but we can be excited that we have so many more channels to deliver our news through.
And in real-time decision-making AI, we can ensure the best creative work is always delivered to the right person, on the right channel, at the right time ("Where digital and direct interconnect," as we say at MBA). More relevance, of course, means more engagement and deeper relationships between brands and their customers. Our Aladdin's Cave of creativity just got stronger through technology, not weaker.
Tech-rich creativity
1. Automating tedious tasks paves the way for more human creativity, not less
2. New technologies provide many more exciting new creative canvases to work on
3. The key to exploiting these will always be creating deep emotional brand connections
4. The new "creative triumvirate" blends creatives, planners and technologists
5. Bring on the new wave of tech-inspired creative briefs!
---
Alex Cowell, Caitlin Evans and Jack Gallon, MBA