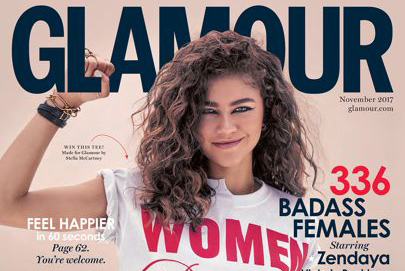 The Condé Nast women's monthly title has announced a "digital-first" strategy, less than a year after its website relaunched, which at the same time was to become "mobile-first".
The December issue will be the last monthly issue in the UK, and the company has now entered a period of statutory consultation over job losses. Condé Nast did not say how many jobs would be lost.
"As we look ahead to the future, we are particularly sorry the December issue will be the last monthly issue for the British reader, as a result, having to say goodbye to talented editorial and publishing staff," a spokeswoman said.
The editorial and commercial departments will be also be "fully integrated", the publisher said, which would offer advertisers "access to the whole team, with a unified and cohesive structure creating content for brands and editorial alike".
Glamour's paid-for circulation fell by 7.1% year on year to just under 250,000, according to the most recent ABC figures, covering the period January-June 2017, but this followed a much bigger circulation fall of 26% for the previous six months.
The new bi-annual print magazine will be "the ultimate beauty bible and style guide for the coming season", Condé Nast said in a statement.
Albert Read, managing director of Condé Nast Britain, said: "Today's Glamour consumer moves to a different rhythm than the one who bought the magazine when it launched in 2001. It is a faster, more focused, multi-platform relationship.
"The quality of ideas, vision and execution remain central, but the way in which it is delivered must change fundamentally with Glamour's new mix of digital, social, video, live and print, and its focus on beauty. We have the brand, the creativity and the access – an enormous competitive edge in the market – and we are rendering it in new ways around beauty to reflect the woman of today, and of tomorrow."