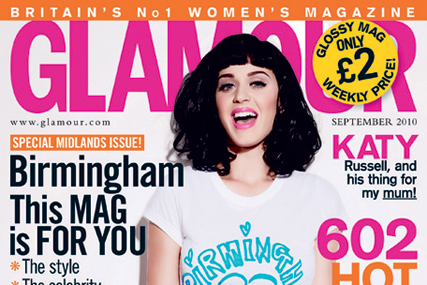 Cover star Katy Perry, US pop singer and fiancée of Russell Brand, wears a different white T-shirt on each cover, with the names of each of the British regions graffitied on.
Each edition, out on Thursday 12 August, contains a dedicated 16-page editorial section tailored to Birmingham, Bristol, Manchester, Northern Ireland, Scotland, Wales, Newscastle and London.
Signed by Katy Perry, the T-shirts and a pair of Converse trainers, will be given away online via Glamour.com. In addition, users can also enter a competition to win a pair of Converse trainers every day for a month, called "Me and My Converse'.

Jo Elvin, editor of Glamour, said: "I have to thank our partners in this, the wonderful people at Converse, without whom the project would never have happened. They even helped us track down some of the incredibly cool, incredibly talented rising stars from each area, that you can read about in your particular issue."
Glamour's editor also said readers were encouraged to tweet their personal suggestions on what regional information should be included in their local editions, "to make sure that each place's 'mini mag' is crammed full of great tips to get to know where you live that little bit better."
Supporting online content for the September editions includes video blogs from the local talent who feature in the magazines, and behind-the-scenes footage from the cover shoot with Katy Perry.