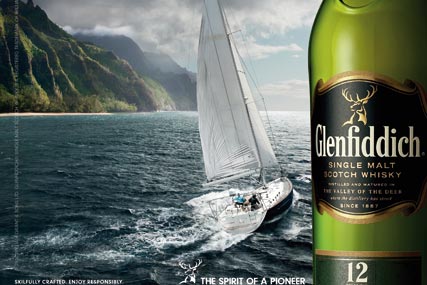 Created by Leagas Delaney, the "One day you will" campaign will include cinema, outdoor, digital, social media and customer relationship marketing.
It attempts to strengthen the brand's position as a leading single malt whisky and is being supported by a multi-million pound global media spend across North America, Asia and Europe.
The campaign captures awe-inspiring scenarios, including a sail boat on open water and a spectacular mountainous landscape with two men looking out to the distance, to encourage consumers to make the most of life's adventures. A bottle of Glenfiddich is shown in the corner of each ad.
Jamie Milne, Glenfiddich UK brand ambassador, said: "'One day you will' takes Glenfiddich into a brave new territory for single malt. We pioneered the single malt category and have a long history of whisky innovation.
"Our new advertising campaign celebrates our consumers' self-belief and reflects our pioneering spirit and this future looking concept clearly differentiates Glenfiddich from our more traditional competitors."