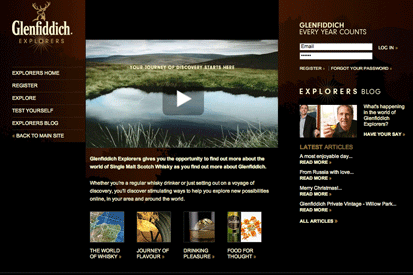 The relationship marketing programme for Glenfiddich Single Malt Scotch Whisky aims to cultivate a loyal relationship with consumers by using a targeted email and banner campaign.

Consumers will be invited to register on the Glenfiddich Explorers community website, which aims to provide interesting information about whisky to encourage consumer engagement.

Created by Kitcatt Nohr Alexander Shaw, the site offers a blog and four sections explaining the origins of whisky, the brand's flavour characteristics, suggested ways to drink whisky and suggestions of food that goes well with the brand's four varieties.

Users will also be able to chat to other registered 'Explorers' around the world.

The activity will roll out across Glenfiddich's core markets worldwide, including the UK, this month, followed by selected markets later in the year.

Utadi Murphy, global relationship marketing manager at William Grant & Sons said the new programme will help the firm develop loyalty to the brand, increase frequency and relevance of contact and effectively measure increases in consumption.

Laphroaig and Ardbeg whiskies already offer online communites.