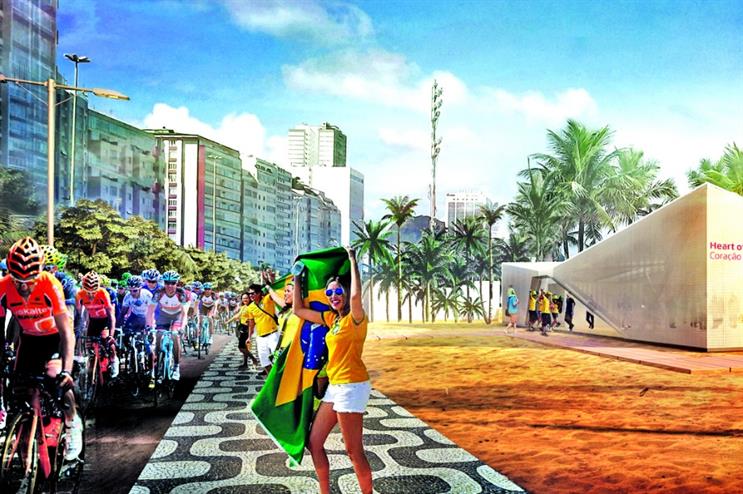 Pulse group
The agency is working with Visit Denmark to ensure the nation's presence is made known at the Games.
"Pulse Rio has won the contract to deliver the Danish Pavilion on Ipanema beach during the Olympic period," says Beatriz Hutchings, company director - Brazilian office at Pulse Group.
"The pavilion, the Heart of Denmark, will use techniques from sailboat construction. It will be an open space and will feature a bar, pressroom, an exhibition on sustainable cities and an amphitheatre from which visitors will be able to enjoy the views or watch the Olympics on a big screen. The pavilion will be open to everyone."
The agency is also involved in projects with Lego and sportswear brand Asics.
"We will deliver the Lego Beach house on Ipanema beach, and work with Asics to deliver a range of experiential activations," Hutchings explains.
She says the agency is also working with other brands, details of which remain under wraps for now.
GMR Marketing
A number of brands have enlisted GMR Marketing for the occasion, including Visa, P&G, Omega, General Electric, Cisco, Nielsen, BP, Hershey's and The Hartford, the latter for the Paralympics only. "Client activity in Rio will range from hospitality programmes through to digital campaigns and on-site activations," says Steve Watts, client services director at GMR Marketing.
The agency will be bringing a campaign from the London 2012 Olympics back to life, and a number of top athletes have been brought on board.
"We are proud to once again be activating P&G's Thank You, Mum campaign, which launched during London 2012. European athletes have been signed in more than 20 European countries and will be looked after, alongside their mothers, in Rio. A number of P&G brands will be involved in activating the IOC partnership, including Gillette, Pampers and Always," Watts explains.
"Visa Europe has released its Beating Heart of Payments campaign, and Visa UK has partnered with Team GB to run a new campaign called Everything Counts.
A team of Visa athletes have been signed, including four leading prospects: Adam Peaty, Adam Gemili, Eleanor Baker and Claudia Fragapane."
Octagon
Aykan Azar, managing director of Octagon Brazil, says the agency has secured work with both local and international clients around the Olympics. "These include official supporters Cisco, which specialises in network infrastructure; Skol - a Brazilian ABI/Ambev brand; Brazilian University Estacio; and Aliansce, a Brazilian shopping mall holding. We are also supporting Cartan, a global travel provider, in the local market.
"Octagon is also working with US Olympic Committee sponsors BMW and Dick's Sporting Goods. After having worked with each client to develop Olympic marketing plans for the US market, we are executing those plans leading up to and during the 2016 Olympic and Paralympic Games," Azar adds.
Exact details of the brand experiences remain confidential, but Azar says they could span a range of platforms.
"These activities include hospitality and ticket programmes; consumer activations and promotions; athlete and spokesperson integration; and CSR initiatives," he says.
As with Pulse, the agency is working with other brands, but these remain undisclosed.
Executing the experiences
GMR opened an office in Rio last March in preparation for the Games, and Watts notes that this has been a great move for the agency.
"Having an office in Rio de Janeiro is extremely beneficial for local knowledge and support across key service areas," he says.
"The team in Rio is working with a number of partners. However, there will also be a GMR US and EMEA hub on the ground in Brazil, helping to deliver the programmes during the Games," he explains.
Octagon's offices in Rio de Janeiro and Sao Paulo will be handling the majority of work on the ground at the Games, says Azar. "These offices have successfully delivered award-winning Fifa World Cup client campaigns that allowed them to gain valuable experience on what it takes to deliver a major sporting event," he says. "This puts them in a perfect position to offer premium services for our Olympic client roster."
Azar adds that account teams from Octagon offices around the globe will also be present during the Games.
"All major events are a reflection of the global nature of Octagon's business and a challenge that enjoys contributions from many different levels and offices across the organisation.
"Given the global nature of some of the client assignments, account teams dispersed across the globe will come to Rio to offer hands-on support during the Games," he says.
Hutchings says that Pulse Rio will be behind the delivery of projects. "The local office will be responsible for the overall management and delivery of all work relating to the Olympic projects.
"If required, the Rio office will of course leverage the capabilities and experience that Pulse London has to offer. However, with the vast experience the Rio team has in delivering activations for international and local clients, we will be pretty much self-sufficient."
Comment below to let us know what you think.
For more activations and experiential campaigns in London, download our latest report, London's Experiential Playground.