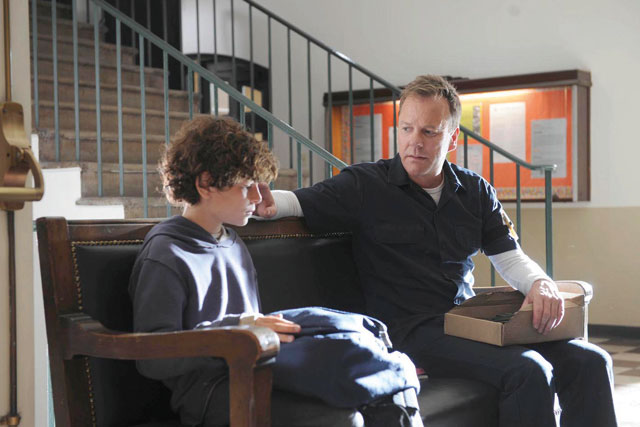 Did we really hear a business analyst on Sky News the other day telling us that, where the future of media is concerned, "content is king"? Surely not. The next thing you know, people will be wearing flares again, dropping ecstasy and casually taking on huge mortgages.
Despite what maverick new-media outfits such as Yahoo! and AOL (and, in their own way, old-media outfits such as ITV) have been saying in recent years, it has been a long time since "content" was even a minor nob in an obscure Ruritanian Duchy.
Last year, for instance, if you wanted to make yourself look like a real clown, you'd attempt to write something about media without using the words "technology" or "algorithm" - terms defining territories in which content has, in recent times, not been ruling.
No longer. The theory now is that Apple, currently sitting on what is often referred to as a "cash mountain", is in a final push into our sitting rooms, about to buy itself some serious creative firepower - and that Google will have no choice but to follow suit.
As such, they will be playing for the first time on unfamiliar terrain, but they will find some familiar faces there - notably the big advertisers that they are rather desperate to "own" in the long run.
For example, look at last week's global deal between Unilever and News Corp, whereby a Unilever deodorant line (untidily, it's called Sure in the UK, Degree in the US and Rexona everywhere else) will become the global sponsor of a new 20th Century Fox Television-produced TV drama series called Touch, starring Kiefer Sutherland, which debuts in March.
The brand will also be the sponsor of the show's online presence (notably, bonus video content) across many platforms, including Facebook and Twitter, and will back a promotional tour being undertaken by Sutherland.
Broadcast sponsorship and spot airtime deals were easily achieved with regard to the News Corp stations already committed to taking Touch in territories around the world - but they involved more complex negotiations in countries where the show is being carried by third-party broadcasters.
For what it's worth, Touch is, according to the Fox press office, "a drama that blends science and spirituality to explore the hidden connections which bind together all of humanity. At the centre of this distinctive new series is a widower and single father whose quest to reach out to his emotionally challenged 11-year-old son will shape the destiny of the entire planet."
Well, it now looks as if a sticky stuff called deodorant has been revealed as one of those "hidden connections" - and, of course, we've never doubted Unilever's belief that it holds the destiny of the entire planet in its corporate hands.
1. Unilever, in particular, has a long history in this space. In the 90s, it had a programme development unit and was a co-producer of the Wheel Of Fortune game show across many markets. And Sure/Rexona, in particular, has previous. In 2006, the brand funded a 13-part football documentary series called Fans United, running on ITV1 in the UK, exploring the "universal passion" of football fans the world over.
2. Unilever has also been one of the advertisers keenest to explore product placement opportunities on mainstream UK TV. And it has a track record in developing long-term cross-border partnership agreements with media owners - for instance, the deal it signed with JCDecaux in 2002 guaranteeing a five-year spend of EUR100 million across 22 European territories in return for favourable terms and conditions.
3. News Corp has always been keen to pursue cross-border advertiser relationships. More than a decade ago, it became the first multinational media owner to open a global ad sales operation, in New York. It also has an international network of sales houses called Fox One Stop Media.
4. The media agency networks owned by big holding companies have also been reinforcing their overarching global structures - with the likes of Group M, VivaKi, Omnicom Media Group and Mediabrands appointing market-facing executives to seek cross-border opportunities. In theory, that makes global tie-ups more likely. Tellingly, though, in this Unilever deal, much of the running seems to have been made by the client, particularly its US media boss, Rob Master, who has an enthusiasm for pursuing content deals.
WHAT IT MEANS FOR ...
MEDIA OWNERS
- The threat of piracy means that it's counterproductive to stagger the global scheduling of big TV properties.
- Once they're on air in the US, they're effectively available everywhere. This sort of deal could make maximum commercial sense of a new era in global scheduling synchronicity.
ADVERTISERS
- Neil Walker, the branded content director at ZenithOptimedia's Newcast division, argues that, philosophically, this takes the business into an interesting new dimension. "This could change the way advertisers view a big drama property," he says. "It's like sponsoring a major sporting event, where you have first dibs on it around the world."
- The upsides are alluring. But replicating this initiative would not be easy. The US deal was done first, then opportunities opened up as regards other News Corp-owned TV stations around the world - and then third-party deals were the icing on the cake. In other words, it was largely the product of opportunism arising out of good fortune.
- Unilever-sponsored promotional activities undertaken by Sutherland are an important facet to this deal, so the proposition also rather depends on being able to align with a programme dominated by a big celebrity - and, crucially, one who's happy with commercial partnerships. As one observer comments: "I'm not sure we'll see other advertisers rushing to do this sort of thing. In fact, I bet we'll see Unilever do it again before we see another advertiser try it. They'll be prepared to watch Unilever make the running and take the risks."