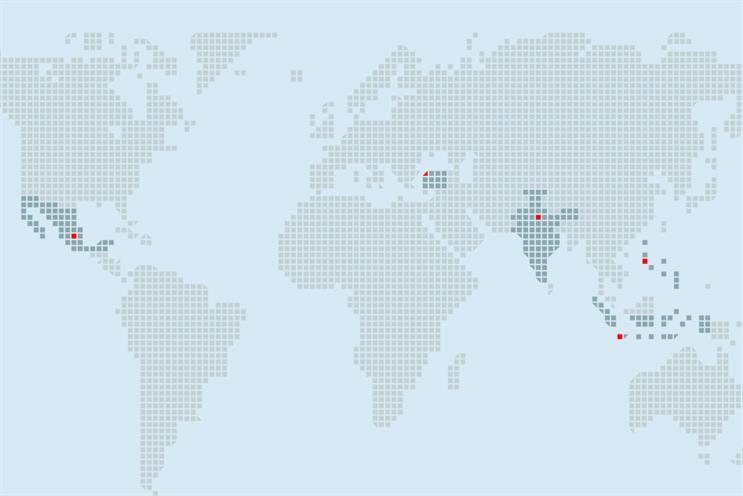 Mexico
By James Swift
Picking out Latin America's hottest ad scene isn't easy. Disregarding the dominant São Paulo in Brazil, Colombia is sweeping up industry awards, Montevideo in Uruguay has hipster appeal and Argentina begets an implausible number of top creatives. Mexico, however, snatches the title.
Part of Mexico's appeal is its size, with the population nearing 120 million. And its GDP, which increased by 3.9 per cent in 2012, is on course to grow a further 3.5 per cent in 2013.
Whereas language cuts Brazil off from many of its neighbours, according to César Vacchiano, the chief executive of the research company Grupo Consultores, Mexico is an ideal Latin America launch pad and a large, stable market in itself.
While Mexico used to be conservative in terms of creativity and innovation, everything is now moving at a faster pace. Mexican and Spanish agencies won a similar number of awards at Cannes in 2012.
Proof of Mexico's rise, according to a source, is that WPP's chief executive, Sir Martin Sorrell, no longer visits the country every two years and instead now goes there twice a year. A spokesman for WPP could not confirm the veracity of the claim, but said: "Martin is a great fan of Peña [Enrique Peña Nieto, the president of Mexico] and believes that Mexico is one of the strongest prospects in the BRICS and Next 11."
Shops to watch
The Publicis-owned Olabuenaga Chemistri is responsible for some of Mexico's most high-profile campaigns for brands including Bacardi and General Motors. The agency is led by Ana María Olabuenaga, who is a commanding figure in Mexico's ad industry.
Great work
Gandhi bookstores "executed" by Ogilvy & Mather Mexico.
Istanbul
Tolga Tuna, editor-in-chief, Campaign Turkey
Istanbul is the booming ad scene in Turkey. It is home to more than 600 agencies and more than 8,000 marcoms professionals.
Recession, budget cuts, struggle – we hear about these things a lot in the post-Lehman world, but seldom in Istanbul. Adspend grew by 31 per cent in 2010 and by 20 per cent in 2011. The industry only grew by 8 per cent in 2012 and it felt like a recession on the shores of the Bosphorus.
Istanbul's ad agencies can thank Turkey's geographic location, historic heritage, solid economic structure and dynamic population for the growth. Istanbul is where the continents meet. One half of the city is in Europe, the other half in Asia. The work created has bits and pieces from both Oriental and Occidental culture. Besides, Turkey's population of 75 million is tech-savvy and has a median age of 27.6: it's jet fuel for creative growth.
Turkish brands' desire to become global is also important. For instance, with its 204 destinations, Turkish Airlines became number one in the world.
The Turkish ad scene's defining characteristic is that it is adaptive, with executions containing drama and humour. Its strong storytelling and adaptive nature help ad agencies and production houses break down barriers and compete globally.

Shops to watch
Medina Turgul DDB, Alametifarika and Rabarba took top spots in the 2011 Europe Effie Index. DDB Istanbul and Mindshare Turkey are top earners at Cannes Lions. The digital agency 41? 29!'s social media project "game of your life" won at Eurobest and Clio. Another digital agency, C-Section, is now managing Coca-Cola's social media operations in 90 countries.

Great work
Google "did you mean?" by Grey Istanbul.
India (National Capital Region)
By Gokul Krishnamurthy, editor, Campaign India
The growth of the ad industry in the National Capital Region (comprising Delhi, Gurgaon and Noida) is an ongoing topic of discussion in India, and debates on whether Mumbai has lost its position as the industry capital usually follow.
NCR's rise challenges Mumbai's long-standing status as the country's commercial centre. Tata House still stands in Mumbai, as do Reliance Industries, Mahindra, the FMCG giants Hindustan Unilever and Procter & Gamble, Mondelez, Godrej and Vodafone, and some of the largest banks and financial institutions, including Reserve Bank of India and the Bombay Stock Exchange.
On the other hand, Delhi hosts powerhouses such as Pepsi, Coca-Cola and Perfetti, and multinationals such as Bharti and Max.
Infrastructure and feasibility attract corporations to NCR, especially to Gurgaon, and agencies should logically follow. In India, the creative leadership for most agencies is based in Mumbai. Production, infrastructure and talent, aided by the TV industry and Bollywood, have ensured that Mumbai remains the ad capital for a TV-heavy industry.
But, as agency chief executives admit, more ad talent is willing to move to NCR today than before, thanks to a better quality of life and the profile of clients.
NCR's further rise in stature is imminent. Having said that, it is hard to envisage creative agencies and their leadership moving base in the foreseeable future. Just as it is difficult to visualise the day TV ads are obsolete in India.

Shops to watch
NCR-based agencies such as Wieden & Kennedy have stood out with consistently good work on brands including Indigo and, more recently, Cleartrip. Law & Kenneth's work on Hero, Publicis Ambience's work on Maruti, DraftFCB Ulka's work on Tata Docomo and McCann's work on Aircel show the creative potential of the region.

Great work
Maruti "kitna deti hai?" (what's the mileage?) by Publicis Capital.
Philippines/Indonesia
By Atifa Silk, editorial director, Campaign Asia-Pacific
Asia – in particular, China and India – has some of the richest contemporary cultures in the world and is becoming more confident and creative. There are signs that the region is no longer benchmarking itself against the West but creating new forms of communication that are built on Asian culture, values and humour. Australia and New Zealand have historically led the creative rankings, but not for much longer.
Indonesia, which has long been Asia's sleeping giant, is ready to break out as the next big growth engine. Also, the Philippines' advertising industry is producing work that can compete in terms of creativity and effectiveness with the more developed markets, and Vietnam is establishing world-class strategic and creative offers.
South-East Asia is instinctively vibrant, creative and entrepreneurial, and, as a region, quick to adapt to change. The work making an impact – whether through TV, mobile or new technologies – shows an appreciation for local culture and nuances.

Shops to watch
The creative battle between the WPP and Omnicom agencies stands out in many markets. But there are other kinds of agencies beginning to lead the way. Across Asia, shops such as TSLA, WE, Creativeland, Madhouse, Bravo and Party are creating new forms of communication that are built on a deep knowledge of local culture and developing technologies.

Great work
Department of Tourism "it's more fun in the Philippines" by BBDO Guerrero.