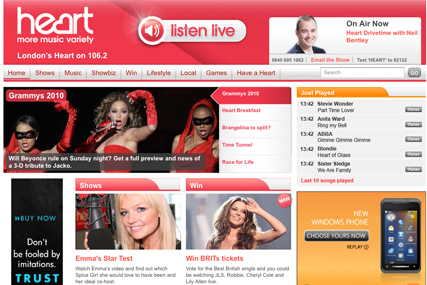 The 33 individual Heart sites have been amalgamated into a single site at Heart.co.uk. Users are able to access content relevant to their region, as well as content available across the network.

The new Heart website allows Global Radio to offer advertisers multi-platform commercial opportunities and to sell both network and regional ads on the website.

Richard Park, executive director and director of broadcasting at Global Radio, said the new Heart website provided an "excellent commercial platform, enabling Global Radio to provide our clients with more innovative and bespoke partnership opportunities".

The new online player has a faster user experience, improved audio quality and greater cross-platform compatibility.
Xbox Live's association with the player is part of a wider seven-figure partnership brokered last year by Microsoft media agency Universal McCann, which includes Global Radio station 95.8 Capital FM and the sponsorship of the Jingle Bell Ball in December.
According to the last Rajar results for Q3 2009, nearly 7.4 million people listen to the Heart network of stations each week. The Rajar results for Q4 2009 are out this Thursday (4 February).