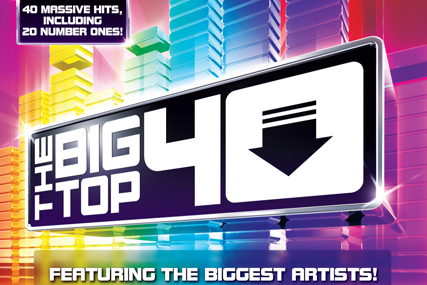 The new album will be supported by advertising across the 141 commercial radio stations that currently air the 'Big Top 40' chart show, including Global's Heart and Galaxy networks, Bauer Media's Big City Network and GMG Radio's Real Radio network.
The marketing campaign behind the release, has been planned and bought by WPP's MediaCom, and will include national TV and digital activity.
Richard Park, group executive director and director of broadcasting, Global Radio, said the 'Big Top 40' is "the biggest chart in the UK" and is listened to by 2.7 million people and the CD has been released to celebrate "the massive success of the show".
The Big Top 40, presented by Rich Clarke and Kat Shoob, launched last year and allows listeners to influence the top 10 in real time by downloading tracks from the iTunes store during the show. The top 10 positions are reviewed each hour and then revealed on air between 6pm and 7pm.
All tracks on the 'Big Top 40' album reached the top five on the show and the album features 20 number ones.