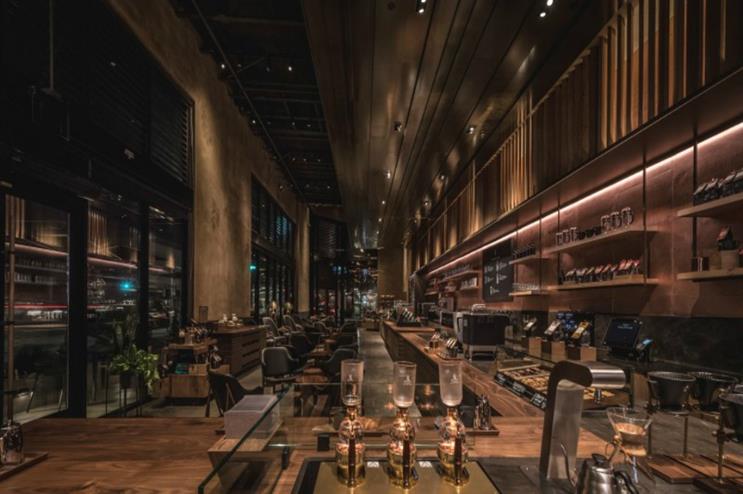 The Starbucks store on La Brea Avenue in LA is the first of its kind in Southern California to integrate an interactive coffee bar where the company's small-lot Reserve coffee comes to life. Starbucks says that stores with Reserve coffee bars will make up 20 percent of its store portfolio by 2021.
From the moment customers walk in through the corner entry doors, they are welcomed into a bright, lofty space with a grand chandelier to evoke the historic LA mid-century modern style. The show-stoppers are the two long bars that run along the axis of the space. The bar is built for two speeds – commuters popping in for a quick stop, and others who would like to engage in a conversation about coffee. Starbucks Reserve small-lot coffees are featured and the beverages are crafted with a variety of brewing methods, including Siphon, Clover, Pour Over, Nitro Cold Brew taps and Black Eagle manual espresso. At the end of the bar is a tasting space where a row of glowing siphon brewers beckon with an illuminated Reserve brand logo.
Starbucks opened its first 'Reserve Roastery' nearly two years ago in Seattle, creating an immersive experience that is reflected in this latest opening.
Min Cho, Starbucks managing director for store design, said: "We wanted to create connection back to the Roastery, but in a way that reflects an authentic California lifestyle focusing on warmth and casual conversation – both playful and sophisticated."
The design features an oak louvered wall and copper backdrop that echoes the Roastery and evokes a California sunset. Materials and lines are uniquely mid-century, tying into the style and architecture of the neighborhood. The team commissioned an artist to create botanical vignettes that appear and disappear.
Starbucks hosted a party in October in London to mark the launch of its Teavana brand.
More: Brand Slam: Lavazza vs Starbucks