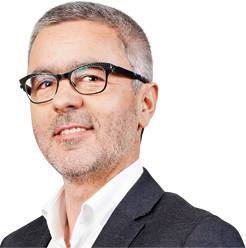 Spain has been in an economic recession for years and it is one of the hardest-hit countries in southern Europe. As a consequence, our sector has been negatively impacted by major budget reductions, staff cuts, talent desertion and risk aversion. The crisis has even affected creative output as brands recycle previous campaigns as a means of saving costs.
These are challenges for any business, but we've managed to turn the tables in our favour. Our rapid growth in the past year comes from the very simple and bold desire we have to seize the day and focus on what we can do, keeping it simple, doing it well and forgetting what we cannot do.
As an agency, we are constantly recognising our potential weaknesses and neutralising them while identifying our core strengths: diversified, powerful talent and strong credentials for building global brands. In this difficult economy, we have been able to attract top talent and let them do what they do best. Even in what has felt like the most challenging of times, we've set the bar very high for ourselves.
We know that perfection doesn't exist, but we continue to aim for it anyway. This is a particularly difficult task in a country that is very set in its ways.
Global, regional and local brands will always need to capture the hearts of people who are culturally different
The political and current socioeconomic climate in Spain creates a kind of innate mistrust across all sectors and transactions.
In Spain and in this industry in general, clients tend to fully trust research rather than the agency. They see research as "fact", a number – much safer than our opinion. It's a constant challenge. We are, however, detecting a tendency for clients to place more trust in us as specific category experts. We care about understanding clients' challenges. We have already experimented, failed and succeeded within those realms.
We are obsessed with what is important – to do the best work for our clients and fight for this objective every day. We have a growing global client portfolio that trusts us with their business. Unilever's Magnum is a prime example – a billion-euro brand that is led from Lola. No matter how globalised the world becomes, global, regional and local brands will always need to capture the hearts of people who are culturally very different in their way of thinking and living.
In this very noisy world, we have the capacity to listen, dive deeper, read and understand each brand's "heart values". This is the first step to generating traction and working for tangible sales results.
We work closely with our clients, helping them listen to human insights and understand popular culture. We don't just reflect what we hear; we turn that knowledge into surprising, effective ideas, transforming consumer insights into client business opportunities.
Miguel Simoes is the chief executive at Lola