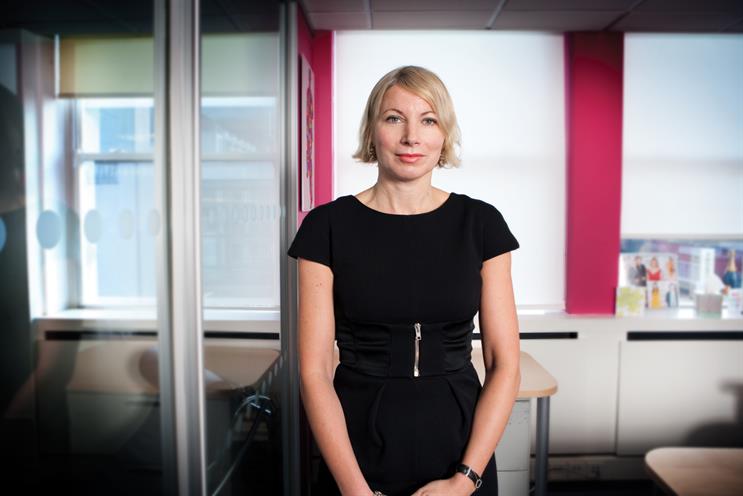 Before Pippa Glucklich arrived at Starcom two weeks ago, the new managing director had already made her mark: she had arranged for her office to be redecorated from Starcom-red to, well, Pippa-pink. A clear indication that she's ready to make her mark on the Publicis Groupe agency? You better believe it.
Open, sassy and home-grown in the media business, Glucklich is typical of a new wave of women now taking control of the once male-dominated agency world.
Having cut her teeth at DMB&B in the 90s, working in the media division that would eventually form the foundations of MediaVest, her arrival at Starcom MediaVest Group represents a homecoming of sorts.
Of course, most people know her from her near-12-year stint at Arena Media – where she made a name for herself as a capable operator, able to make the quick decisions the owner-managed business required, loved by clients and a welcome alternative to the testosterone-fuelled management of Steve Booth, Nick Lockett and Charlie Makin.
But the end of 2011, after a three-year earn-out and an incentive year, was always going to bring a wind of change at Arena. And once Glucklich's closest colleague, Dan Clays, left for OMD in the summer of 2012, the urge to explore a new challenge started to take hold.
"I increasingly felt that, to really succeed and make a difference, I probably needed to be playing in a bigger playground," she admits. "It's not just about sheer scale; but unless you have a strong global network, you can't really compete with the sort of clients and brands that I was excited about working with."
SMG certainly offers scale, with 110 offices in 67 markets and estimated global billings in the region of $27 billion. At Starcom UK, Glucklich has inherited a 100-strong team responsible for around 55 per cent of SMG's client business, including Samsung, Honda, Pizza Hut and Dreams.
Reporting to SMG's UK chief executive, Stewart Easterbrook, she works alongside her MediaVest counterpart, Steve Parker. Both are excited by their new addition, believing Glucklich to be the missing piece that completes their management team.
Easterbrook concedes that the Starcom part of the group has underperformed when it comes to new business over the past year, with the agency assuming more of a holding pattern since Matt James exited as the managing director in March 2012 after less than 18 months at the helm.
Glucklich knows new business will play a major part in her success, while adapting to the changing needs of her clients – some of which, such as Premier Foods, are now under new management themselves, with unrelenting business targets of their own.
But she calls taking her new role a "really considered decision", having initially been approached as far back as April 2012. She readily acknowledges that SMG's reputation has "taken a bit of a battering" in recent years, with the loss of COI's consolidated business, BT, Kraft Foods and InBev in 2010 still burning deep in the memory.
However, perception is a fickle mistress and Glucklich says she soon realised she had underestimated the business. Easterbrook's team has been developing new digital revenue streams, largely under the radar, around SEO, pay-per-click, affiliate marketing and mobile since then. There have also been notable extensions of client relationships around sponsorships, product placements and something they dub "dynamic optimisation of creative".
"All agencies ebb and flow but, having met the people, seen how they work, I really don't think there's as big a job to do as I first thought," Glucklich says. "The vision and the values are in place."
I felt that, to really succeed and make a difference, I probably needed to be playing in a bigger playground
A cornerstone of this belief comes from SMG's global chief executive, Laura Desmond, who coined the group's "human experiences" positioning. Glucklich talked with Desmond several times before taking the role and calls her proposition around how brands interact with people "a real inspiration".
Glucklich sees her role as helping to convey the great work already taking place at SMG and to bang the drum loudly to help boost its reputation. Something she believes will help SMG's shared vision come to the fore is a pending move to a swanky office space on New Oxford Street this autumn.
The nine-storey building will house the Publicis digital agencies Digitas and Razorfish, as well as ZenithOptimedia and SMG. "I know it will move the agency on to a different plane in terms of energy," she says.
Until then, clients and rivals would do well to watch this new pink space carefully.



Glucklich CV
1990: Media executive, DMB&B
1992-2000: Planner/buyer, Initiative
2001: Account director; managing director; chief operating officer, Arena Media
2013: Managing director, Starcom UK
The lowdown
Age: 45
Lives: Wimbledon
Family: Married (Michael) with two boys (14 and ten) and dog Digby
Interests: Travel, reading, theatre and Chelsea FC